[Satnews] The World Teleport Association (WTA) has announced that Signalhorn Trusted Networks has achieved full certification of two teleports under WTA's recently launched Teleport Certification Program.
Signalhorn's two teleports to receive full certification are its Backnang Teleport in Germany and its Leuk Teleport in Switzerland.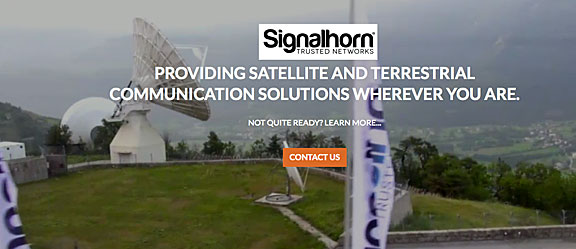 To achieve Full Certification under WTA's program, a teleport operator completes a +170-item questionnaire and submits it to WTA. The Association analyzes the data based on standards established by its Certification Committee and issues a Provisional Certification based on the self-reported information. An auditor is then dispatched to visit the teleport, provide independent validation of the data submitted in the questionnaire, and identify additional factors that may positively or negatively affect the score. Full Certification is issued at a Tier number from 1 through 4, of which 4 represents the highest degree of excellence, and remains in effect for 3 years.
Additionally, du and Eutelsat have achieved provisional certification of their teleports under WTA's aforementioned launched Teleport Certification Program.
du received provisional certification for its Samacom Teleport, located in Dubai. This is the first teleport in the Middle East to be certified under WTA's program.
Eutelsat received provisional certification for its Rambouillet Teleport, in France. Eutelsat's Rambouillet Teleport is the fifth teleport to be certified by WTA in Europe.

WTA's Teleport Certification Program aims to serve both teleport operators and their customers by creating an objective, transparent, and internationally accepted method for teleport operators to document the quality of their operations for customers and strategic partners. It also aims to provide a means for customers to select teleport vendors delivering the price-performance level that is appropriate for their applications. Select this direct link for a list of certified teleports.
For more information about the Teleport Certification Program, visit http://www.worldteleport.org/?page=Certification.
Robert Kubbernus, CEO of Signalhorn Trusted Networks, said, "This certification program, it's principals and process are important for our industry and the customers we support. As the world becomes increasingly reliant and dependent on the services that our industry provides, it is critical that we establish benchmarks, best practices, security and transparency."
"WTA greatly appreciates the participation of companies like Signalhorn Trusted Networks in our new certification program," said executive director Robert Bell. "Along with other initial customers, Signalhorn's participation helped WTA refine its questionnaire and calibrate its scoring system to achieve the highest level of accuracy possible. We now have our system in final form and look forward to the next series of Full Certifications."