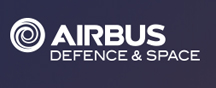 Airbus Defence and Space celebrates the 25th anniversary of Eagle Vision, the company's lightweight, deployable, imagery downlink ground station, designed to process and distribute commercial satellite imagery in near real-time to support U.S. Air Force and Air National Guard missions in homeland security, combat and disaster relief.

Eagle Vision allows downloading and processing of un-classified commercial satellite imagery directly in the field, as the satellite passes overhead, supporting military leaders, even in remote areas and non-anticipated operations. Imagery provided by this system supports wartime operations, natural disaster and relief efforts as well as Homeland Defense preparations.
The system receives and processes SPOT 6 and 7, TerraSAR-X and Pléiades images, and is also capable of processing Landsat, Radarsat, RapidEye, Cartosat, Ikonos, Cosmo-SkyMed and Resurs-DK data. The Eagle Vision Program has been a valuable asset within the U.S. Air Force for the past 25 years. The program enables the Warfighters, First Responders and Planners to have situational awareness so that they can plan, execute and deliver mission resources efficiently and effectively.

Five Eagle Vision systems have been developed and sustained 24/7 by Airbus Defence and Space for the last 25 years. They are assigned to: Ramstein Air Base, Germany, San Diego Air National Guard Station, California, McEntire Joint National Guard Base, South Carolina, Joint Base Pearl Harbor-Hickam, Hawaii, and Redstone Arsenal, Alabama, U.S.

François Lombard, Director of the Intelligence Business at Airbus Defence and Space, said that the firm is celebrating this uninterrupted success since 1993 — Eagle Vision has become a valuable source for commercial imagery exploitation for the U.S. Air Force and many entities within the US Government, to provide fresh, near real-time satellite data for information extraction in preparation for mission critical applications.