[SatNews] Inmarsat Government announced it has executed a service provider agreement with Globecomm Systems Inc. to supply Inmarsat Global Xpress service in support of U.S. government customers.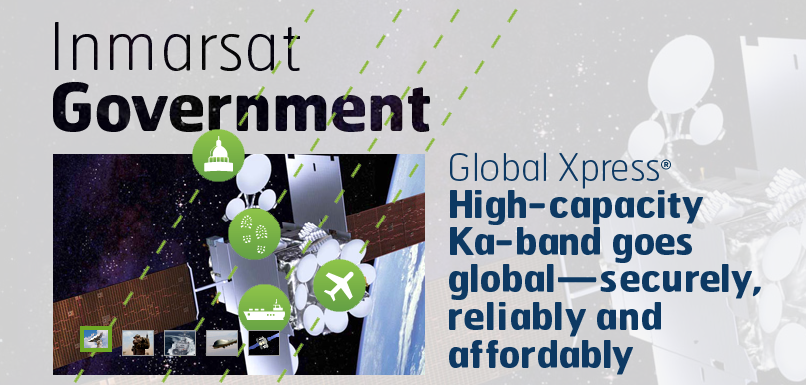 Inmarsat's Global Xpress Ka-band service, designed to complement the U.S. government's military Ka-band Wideband Global Satellite (WGS) system, offers an unprecedented high-throughput wideband data service. The first Inmarsat-5 satellite offering Global Xpress is already serving U.S. government customers in Europe, the Middle East, Africa and Southwestern Asia, and worldwide coverage is anticipated to be available early in the second half of 2015.
Globecomm Systems Inc. is a communication solutions provider with expertise in emerging communication technologies, including satellite and other transport mediums. Globecomm offers solutions involving network services, system integration, and end-user products and applications.
Globecomm focuses in selective vertical markets, including government, wireless, media, enterprise and maritime. For the U.S. government, Globecomm provides expertise in designing and integrating mission-critical networks for disaster response, airborne communications, Communications-on-the-Move, Communications-on-the-Pause, Morale, Welfare and Recreation communications as well as Command and Control, Communications, Computers, Intelligence, Surveillance and Reconnaissance requirements.
"Globecomm and Inmarsat Government are proven communication providers to the U.S. government, and we are delighted to have them as a trusted partner. Together, while MILSATCOM will remain a top priority to our government customers, we'll offer worldwide seamless Ka-band services that can augment systems like WGS," said Susan Miller, president and CEO of Inmarsat Government.
"Global Xpress provides an unmatched level of global seamless IP connectivity enhancing overall performance, security, mobility and ease-of-use for our customers," said Dwight Hunsicker, senior vice president and general manager, Globecomm Systems Inc., Government Solutions. "We are pleased to add Global Xpress to our service offerings, as it will greatly benefit our current and future U.S. government customers operating in various theaters around the world."