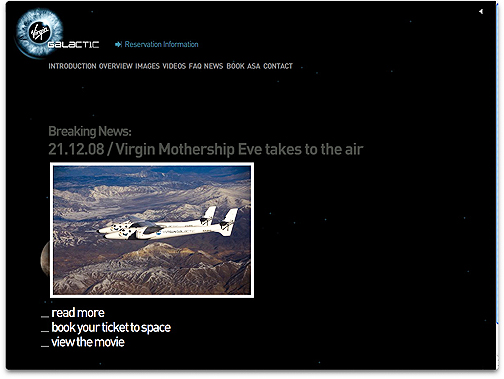 Sir Richard Branson strikes again — today in Gothenburg, Sweden, Virgin Galactic announced the names of the five travel companies who will train to become Accredited Space Agents (ASAs) the first agents in the region allowed to reserve seats aboard Virgin Galactic's suborbital space flights.
The new ASAs are:
Hannibal & Marco Polo A/S, Aarhus, Denmark
Area Travel Agency, Helsinki, Finland
Ice Hotel Travel, Jukkasjärvi, Sweden
The Search, Malmö, Sweden
Upplevelseakuten AB, Stockholm, Sweden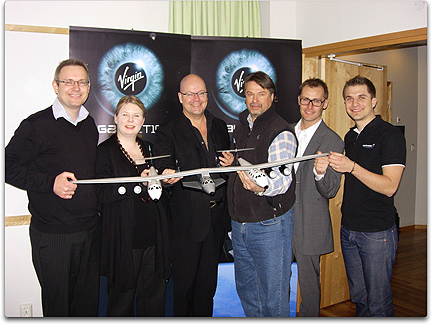 Johanna Bergstrom-Roos
,
information manager of Spaceport Sweden
said: "We have been looking forward to the announcement of Virgin's winning ASAs. They will now become part of a truly unique and exciting new sector within both space and tourism.
Spaceport Sweden will provide infrastructure, services and adventures for space tourism. Having ASAs in Scandinavia means greater local expertise in this field and will add a valuable extra dimension to the existing strong relationship between Spaceport Sweden and Virgin Galactic.
"
Photo credit Spaceport Sweden: The five new ASAs: Hannibal & Marco Polo, Aarhus, Denmark – Anders Martin Larsen; Area Travel Agency, Helsinki, Finland – Teppo Viiperi; Area Travel Agency, Helsinki, Finland – Mari Rouvi; ICEHOTEL Travel, Kiruna, Sweden – Roland Sand; The Search, Malmö, Sweden – Andreas Axelson; Upplevelseakuten, Stockholm, Sweden – Lasse Schmidt
Virgin Galactic began their quest for Scandinavian travel agents January 2009. After submitting a comprehensive application all of the travel agents were shortlisted and then interviewed by Virgin Galactic.
Carolyn Wincer
,
Head of Astronaut Sales for Virgin Galactic
. said: "We were extremely impressed with the professionalism and innovation shown by travel agencies in the Scandinavian region. Travel agents play an important part in Virgin Galactic's distribution process. A good travel agent is a trusted advisor on travel experiences to their clients so when we decided to take our experience to this market, we sought only the best travel agents to sell our suborbital spaceflights."  
The new Accredited Space Agents will be ready to start taking Virgin Galactic enquiries and bookings as soon as their training is completed.
The fee is $200,000, with deposits starting at $20,000.
The appointed ASAs will be skilled up in general spaceflight technology,
g-forces, medical issues and the entire Virgin Galactic experience
so they are well prepared to provide expert advice to prospective Virgin Galactic customers. They will also get to meet staff from Spaceport Sweden who will be there to talk about plans for launching Virgin Galactic flights near Kiruna in Northern Sweden.  
Carolyn Wincer said: "The five agencies we have chosen know how deliver outstanding levels of service when selling unique travel experiences and we have every confidence they will take very good care of our future astronauts. Now it is up to us to ensure they have all the knowledge and resources they need to do this as selling space travel is definitely more complex than selling a safari or a cruise!"