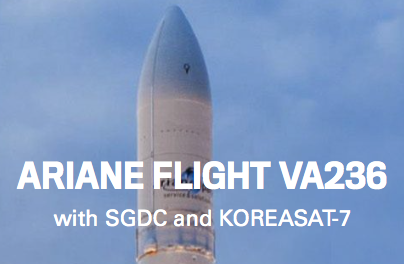 All is ready at Arianespace's Spaceport in French Guiana for Tuesday's Ariane 5 heavy-lift launch of SGDC and KOREASAT-7 telecommunications satellites for Brazil and South Korea. The go-ahead was delivered at the completion of today's Launch Readiness Review, which confirmed the "go" status of Ariane 5, its two payloads, the Spaceport launch infrastructure and the network of flight trajectory tracking stations.
Next week's mission, designated Flight VA236 in Arianespace's launcher family numbering system, is scheduled during a launch window that opens at 5:31 p.m. on Tuesday afternoon, local time in Kourou, French Guiana, and extends to 8:20 p.m. (20:31-23:20, Universal Time, UTC).
For its fourth launch of the year, and the second heavy-lift Ariane 5 mission in 2017, the two passengers, SGDC and KOREASAT-7, were built by Thales Alenia Space, marking the seventh time Arianespace has performed a dual-payload flight with both satellites built by this spacecraft manufacturer. This confirmation followed the completion of Ariane 5's integration inside the Spaceport's Final Assembly Building, performed under the responsibility of Arianespace.
SGDC and KOREASAT-7 are the 555th and 556th satellites to be launched by Arianespace: SGDC for VISIONA Tecnologia Espacial S.A. on behalf of the Brazilian operator Telebras S.A., and KOREASAT-7 for ktsat of South Korea.
This will be the 287th mission by the Arianespace family of launchers, and the seventh all-Thales Alenia Space mission, as both satellites were built by this manufacturer.
KOREASAT-7 is the third KOREASAT satellite to be launched by Arianespace for ktsat, following KOREASAT-3 and KOREASAT-6, launched in September 1999 and December 2010, respectively.
The nominal duration of Flight VA236 from liftoff to separation of the satellites is 36 minutes, 46 seconds, with Ariane 5's total payload lift performance on this mission to geostationary transfer orbit estimated at approximately 10,289 kg.

SGDC is the mission's upper passenger and has a liftoff mass estimated at 5,735 kg., with KOREASAT-7 installed as the lower passenger with a mass at liftoff of approximately 3,680 kg.

Spacebus 4000-series platforms for both satellite payloads
Built with Thales Alenia Space's Spacebus 4000C4 platform, SGDC (Geostationary Satellite for Communications and Defense) is the first satellite that Arianespace is launching for Telebras S.A., performed within the framework of a contract with SGDC prime contractor VISIONA Tecnologia Espacial S.A.

Operating from an orbital position of 75 deg. West with Ka- and X-band transponders, the dual-use SGDC will provide sovereign and secure means for Brazilian government and defense strategic communications, as well as high-quality Internet services to 100 percent of the Brazilian territory as part of the National Broadband Plan.

KOREASAT-7 was produced using a Thales Alenia Space Spacebus 4000B2 platform, and will be the third KOREASAT satellite launched by Arianespace for ktsat, a wholly-owned subsidiary of KT Corp., which is the largest telecommunications/media service provider in South Korea.

Once positioned at 116 deg. East, KOREASAT-7 will provide a full range of video and data applications, including Internet access, direct-to-home broadcasting (DTH), government communications and connectivity for VSAT (Very Small Aperture Terminal) networks. Its coverage area encompasses Korea, the Philippines, the Indochinese Peninsula, India and Indonesia.

www.arianespace.com
https://www.thalesgroup.com/en/worldwide/space/space