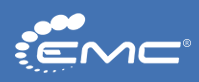 [Satnews] EMC announces a Top 10 Global Energy* company has selected the organization to provide voice and data connectivity services for its Asia/Pacific vessel fleet. The multi-million dollar, multi-year contract adds another world-recognized energy company to the EMC customer portfolio. EMC now delivers services to five of the Top 10 Global Energy Companies.
"We have delivered mission-critical communications services to the world's largest energy companies for more than 15 years," said Hadassa Lutz, president of Energy Services, EMC. "They rely on us for onshore and offshore connectivity, due to our efficiency, reliability and innovation. Meeting these requirements has been key to the customer selecting us. Customers distinguish EMC in three ways—our truly global services for mobility and fixed applications, differentiated solutions, and unmatched worldwide customer support."
EMC owns and operates an advanced global mobility platform, leveraging a hybrid satellite and terrestrial broadband network. In the Asia/Pacific, the customer required a seamless connection across regions served by multiple satellite beams. EMC customers benefit from automatic beam switching, meaning their technicians do not need to make physical changes to onboard systems. EMC also enables seamless switching for vessels in port to a terrestrial or cellular network from a satellite connection.
EMC connectivity performs optimally, delivering more reliability, due to overlapping Ku-band satellite coverage with automatic beam switching. The company is able to dynamically allocate satellite bandwidth to each vessel based on customer-defined quality of service (QoS) levels. Customers also benefit from complete transparency into system performance data, including bandwidth delivery and consumptions of networks by type and user. EMC integrates its solutions fully with the customer's IT policies, extending all processes and security procedures to their vessels.
EMC also provides voice and on-board PBX, out-of-band management of satellite services, equipment, and on-going technical support. Crew members have access to OceanPhone®, a voice application used to connect, through their own devices, with friends and family.
The EMC Energy Services team started serving customers in Africa with challenging regulations, licensing and logisticsEMC has expanded its Energy Services business to many other remote locations around the world for both onshore and offshore customers. Known for long-term customer retention, with an average engagement of six years, customers renew time and again based on the superior network performance, team and solutions offered only through EMC.
*Platt's Top 250 Energy Companies - 2014