[SatNews] NSR previously noted that the DTH market is undergoing a great divergence. Whilst in developed regions, UltraHD is poised be the next big revenue driver, the fastest-growing developing markets tell a very different story.
Sharp has now released 4K TV sets for under $600, and with all the continued talk about UltraHD, one would be excused from thinking that the transition to HD broadcasting is nearing its end, making way for the future of UltraHD broadcasting globally. However, NSR's most recent study, Linear TV via Satellite: DTH, OTT and IPTV, 8th Edition, finds that despite the hype, Standard Definition (SD) still has strong growth potential in developing regions.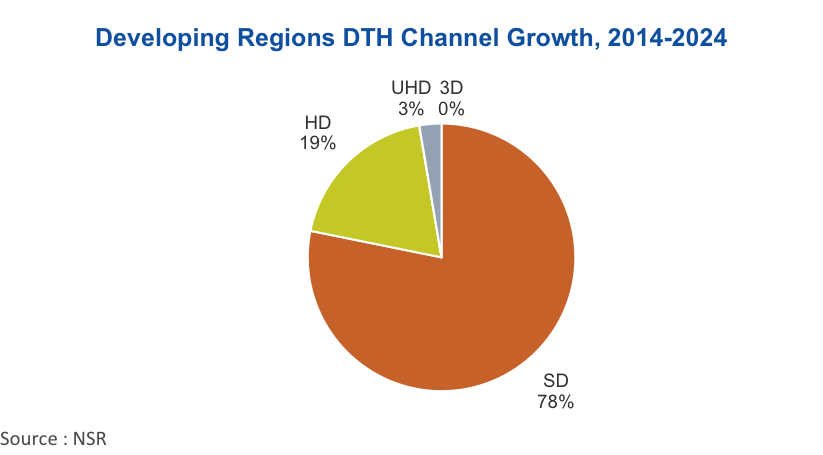 When looking at developing regions (defined here as Central and South America, Middle East/North Africa, Sub-Saharan Africa, South Asia, and Southeast Asia), the number of DTH channels available to consumers is expected to show strong increases to 2024, from approximately 7,300 to just over 12,700 DTH channels. Of the nearly 5,400 channels to be added in these regions to 2024, over 78 percent will be Standard Definition, with similar trends for Video Distribution.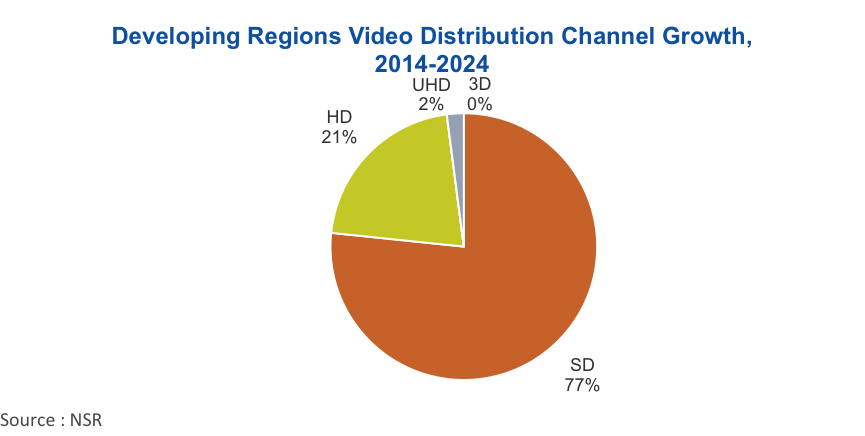 In more developed regions such as North America, growth is primarily derived through increasing ARPUs. This results in a transition from basic to premium channel packages, and a reduced SD TPE capacity of -3.1 percent CAGR from 2014 to 2024 for DTH and flat growth for video distribution. However, in developing regions, growth is primarily driven by increasing subscriber numbers, resulting from increased economic growth and households purchasing their first TV sets.
Meanwhile the UltraHD market in developing regions has accelerated with Indian DTH platforms Videocon d2h and Tata Sky launching their first UltraHD channels. The set-top boxes for this service will cost around US$100 for subscribers, which, it should be noted, is several years of a basic subscriber's ARPU. Other platforms, such as Kino Polska TV in Poland, have announced their intention to deliver UltraHD channels to consumers. Although these new channels will introduce new revenue streams for both DTH platforms and satellite operators alike, it will still remain dwarfed by the giant of SD content.
Whilst the SD format uses significantly less bandwidth to broadcast than HD channels, a sizable over 40 percent of satellite capacity growth in developing regions is attributed to the growth in SD channels, showing the critical importance of the SD DTH market, which should not be overlooked.
Bottom Line
Developing regions have the highest growth rates worldwide for linear TV platforms, and in these high growth regions, the greatest demand for TPEs is still coming from growth in the number of SD channels available, despite the current hype for UltraHD. While the upper to upper-middle class in these developing regions will keep demanding more HD and UltraHD content, for the majority of the population, there is far greater value in having a greater selection of content available. This is number one driver of growth in the developing regions, and satellite capacity will follow this trend moving forward.