[SatNews] Collaborate with industry leaders who will deliver insight and information on emerging technologies from across the globe.
"As we prepare for the 12th annual SATCON Conference and Exhibition, I am looking forward to a dynamic program, focusing on the innovations and applications that promise to keep this industry vibrant and healthy for years to come. I'm especially enthusiastic about our Keynote Panel, which will provide an opportunity for conference attendees to "listen in" to a conversation between the key satellite executives and the future industry leaders." - Susan Irwin, President, Euroconsult U.S. Office and SATCON Conference Chair
Susan J. Irwin joined Euroconsult in 2010 as President of Euroconsult US, after heading up her own consulting company, Irwin Communications, for 25 years. Irwin Communications provided strategic consulting services to major corporations worldwide, including satellite operators, launchers and manufacturers, investment firms and end users. Ms. Irwin has played key roles in the satellite industry since 1977, as a telecommunications analyst for the National Telecommunications and Information Administration (NTIA) and a marketing director for Private Satellite Network. She has been the SATCON Conference Chair since its inception in 2002. She is widely published, a co-founder and Director Emeritus of SSPI, a Director Emeritus of the Arthur C. Clarke Foundation, and a member of the Board of Governors of the Pacific Telecommunications Council.
Susan Irwin of Euroconsult will be moderating a dialogue between leaders of today's satellite business and the winners of SSPI's 2013 Promise Awards, satellite executives under 35 who have been identified by their employers and an independent jury as potential leader of tomorrow's industry. Please join Susan at.
Keynote: Leadership Dialogue: Present Priorities, Future Visions
Thursday, November 14, 2013 - 9:00 AM - 10:00 AM - Open to All Attendees
Featured Speakers:

Steve Collar, CEO, 03b Networks Limited
Pradman P. Kaul, CEO Hughes Communications, Inc.
Mark Dankberg, Chairman & CEO, ViaSat
Richard Roithner is Director of Satcom at Euroconsult specialized in the strategic analysis of satellite operators and service providers. Richard will be moderating a session on the impact of HTS systems on the industry and government, also focusing on the major challenges and future opportunities.
Please join Richard at.
Will High Throughput Satellites Re-invent Satellite Communications?
Wednesday, November 13, 2013 - 4:00 PM - 5:00 PM
Featured Speakers:

Michael Cook, Senior Vice President, North America Division, Hughes Network Systems, LLC
Mark Rasmussen, Regional Vice President, North America Sales, Intelsat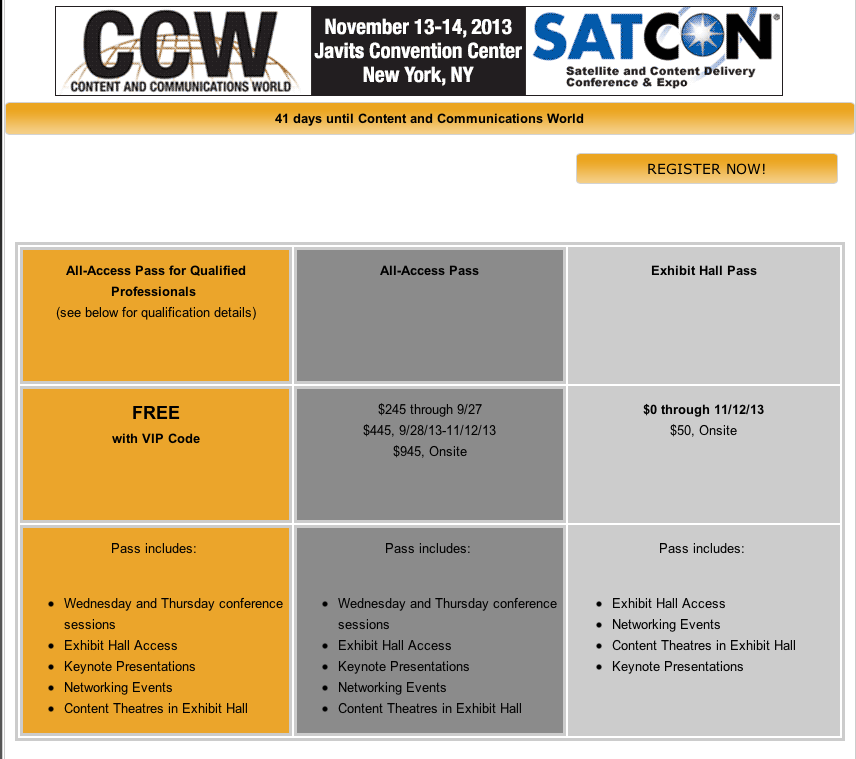 Sponsor Spotlight: Euroconsult is a global consulting firm specializing in space markets for over 30 years. As a privately-owned, fully independent firm, they provide first-class strategic consulting, develop comprehensive research, and organize executive-level annual summits for the satellite industry.
Qualified end-users* may attend all sessions free of charge!
Register HERE with VIP CODE CCK24 to apply for your free full conference pass!  Get complete registration and qualification details here.
Not an end-user? Get your free expo pass! Register now and save on a full conference pass or get your free expo pass which grants admission to the exhibits, sponsored forums and keynote presentations!