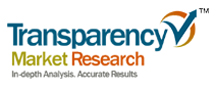 The author of a new Transparency Market Research (TMR) study entitled "Nanosatellite and Microsatellite Market: Global Industry Analysis, Size, Share, Growth, Trends, and Forecast 2016-2024" stated that the US has been one of the most attractive markets for nanosatellites and microsatellites and an increasing number of small and large players look to expand operations in the country.
Nanosatellites and microsatellites have emerged as a vital, feasible, and cost-effective solution for space research, communication, and Earth observation. Transparency Market Research has found that players within the global nanosatellite and microsatellite market have been offering a number of turnkey solutions. These solutions have included data processing, manufacturing and launch services in order to stay competitive and enhance their market positioning. Some of the leading and most promising actors in this space include Planet Labs, Inc., Innovative Solutions In Space (ISIS) Group, Lockheed Martin Corporation, RUAG Group, Clyde Space, Inc., GomSpace, Raytheon, Skybox Imaging, Inc., SpaceQuest Ltd. and Sierra Nevada Corporation.
An excellent example comes to mind—Lockheed Martin Corporation. Although this industry giant has a massive global presence, the company has been increasingly focused on developing advanced launch services in the US aeronautics and space systems market. UK-based Clyde Space Ltd. and Denmark-based GomSpace are other prominent companies that have, of late, expanded their operations into the US., making the most of the country's growing demand for space products.
The fact that smallsats such as nanosatellites and microsatellites find application in an increasing number of industry sectors is probably one of the most significant growth drivers for the market. Smallsats are used for navigation and mapping, in the education sector and for scientific research, for various commercial purposes, and in the military and defense.
According to the report's analyst, this factor will have a high impact only in the short and medium term but, in the long run, the saturation of the use of nanosatellites and microsatellites in these fields will result in a reduced impact on the global market.
On the other hand, however, the impact of the lower cost of production and development of smallsats will be impressively high in the medium and long term, with the benefits not entirely reflecting in the short term.
The value of the global nanosatellite and microsatellite market is poised to expand at a strong CAGR of 12.1 percent from 2016 to 2024. Maintaining this pace, the market will be worth US$2.2 billion by 2024, increasing from US$529.1 million in 2015. By solution, hardware dominates the smallsat market, with a share of more than 35 percent in 2015.
Data processing, on the other hand, is likely to register the highest CAGR of 13.2 percent during the forecast period. Communication is the leading application of smallsats. By mass, microsatellites dominate the market and also form the most rapidly expanding segment. While North America leads the global nanosatellite and microsatellite market, Asia Pacific is projected to grow at the fastest pace.
Obtain a sample copy of the report at this direct link...
A regional analysis is also available at this direct link...
www.transparencymarketresearch.com/
---
Dawdle Not... SmallSat Symposium Dates Established For 2017

Within the smallsat community, those who hesitate in preparing and planning their next business moves within such a dynamic environment could well be "left behind."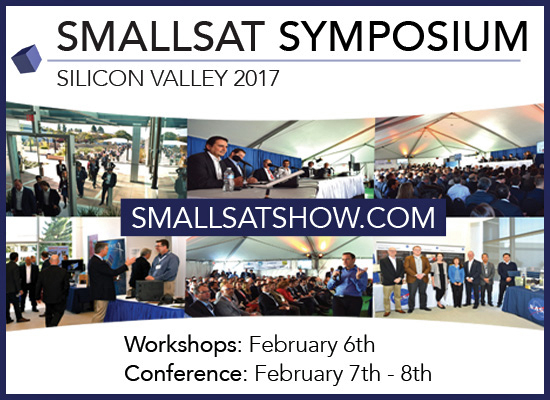 To assist in acquiring the knowledge and expertise to enter and/or continue the acquisition of technology and product to become a successful smallsat actor, Satnews Publishers is delighted to announce that the SmallSat Symposium workshops will be held on February 6 and the conference will be conducted from February 7 to February 8, 2017, at the Computer History Museum, which is located at 1401 North Shoreline Boulevard in Mountain View, California.
A veritable "Who's Who" of subject-matter experts have already committed to presentations during this impact-filled symposium.
Accepted Speakers To Date
Chad Anderson, Managing Director Space Angels Network
Jason Andrews, CEO Spaceflight Industries
David A. Anhalt, Vice President and General Manager Iridium PRIME
Chris Baugh, President NSR - Northern Sky Research
Peter Beck, CEO & CTO Rocket Lab
Dr. Sami BenAmor, Director of Marketing Thales Alenia Space
John Booher, Partner Hogan Lovells
Dr. Sean Casey, Managing Director Silicon Valley Space Center
Carissa Christensen, Managing Partner The Tauri Group
Craig Clark, Founder Clyde Space Ltd.
Mike Collett, Founder and Managing Partner Promus Ventures
James Crawford, Founder and CEO Orbital Insight
Randy Culver, CEO AMERGINT Technologies
Stuart Daughtridge, Senior VP Advanced Technology Kratos
Dr. Lars Dyrud, CEO OmniEarth
Dr. Shahin Farshchi, Partner Lux Capital
Dr. Jenny Gautier, Director of Commercial Programs The Aerospace Corporation
Dr. Steve Goldberg, CEO & Co-Founder Venrock
David Hartshorn, Secretary General GVF - Global VSAT Forum
Susan J. Irwin, President Irwin Communications, Inc.
John P. Janka, Partner Latham & Watkins LLP
Adam Keith, Managing Director Euroconsult Canada
Debra Facktor Lepore, VP and GM of Strategic Operations Ball Aerospace & Technologies Corp
Tony Lin, Counsel, Washington, DC Hogan Lovells
Dr. Clare Martin, Vice President of Programs Surrey Satellite Technology US
Clayton Mowry, President Arianespace
Carlos Niederstrasser, Business Development & Special Initiatives Orbital ATK
Sunil Nagaraj, Vice President of Marketing and Communications Bessemer Venture Partners
Dara A. Panahy, Partner Milbank, Tweed, Hadley & McCloy
Will Pomerantz, Vice President for Special Projects Virgin Galactic
Dr. Alex Saltman, Senior Vice President GeoOptics Inc.
Randy S. Segal, Partner, Co-Lead Satellite Practice Hogan Lovells
David Strobel, CEO and Program Manager (PM) Space Micro
Chris Stott, Chairman & CEO (PM) ManSat
Tom Stroup, President SIA - Satellite Industry Association
Professor Sir Martin Sweeting, Founder and Executive Chairman Surrey Satellite Technology Ltd.
Stig-Are Thrana, U.S. Sales Director and Head of Kongsberg Silicon Valley Office Kongsberg Satellite Services
Dr. Joe Thurgood, Vice President Corporate Development and Marketing Hera Systems
Dr. Marco Villa, President & COO Tyvak Nano-Satellite Systems
Tony Wilkey, Senior Vice President AvL Technologies
Bruce Yost, Project Manager NASA Ames Research Center
Louis Zacharilla, Director of Development Society of Satellite Professionals International (SSPI)
Here's some particularly good news for interested parties — the first 100 registrants will qualify for a $200 discount on the standard event admission... take advantage of this offer... don't dawdle... and register now at this direct link.