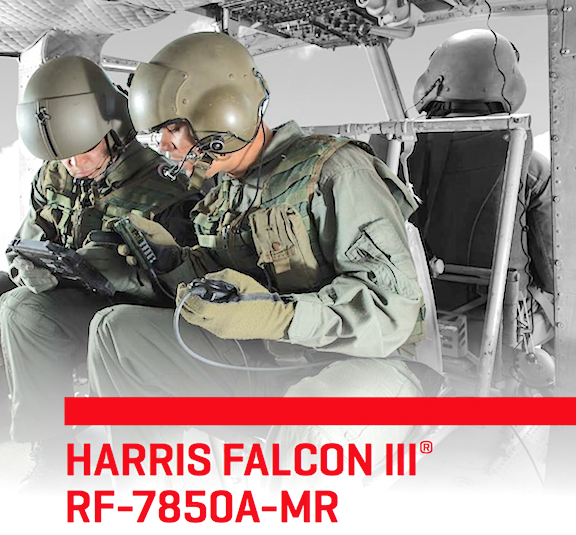 At the upcoming 2017 International Defence Exhibition and Conference (IDEX), Feb.19-23, in Abu Dhabi, UAE Harris Corporation (NYSE:HRS) will be displaying a large assortment of products and integrated systems that help customers connect the battlefield.

These solutions meet urgent security challenges associated with intelligence, surveillance and reconnaissance (ISR) issues and provide opportunities for modernizing force structures. Harris offers fully integrated solutions, with offerings such as digital command and control, tactical communications, persistent surveillance, night vision, robotics and more. Solutions that will be showcased include:
Harris hC2T Software Suite Command: A complete command and control solution that connects all echelons and provides a common operational view with real-time intelligence.
Harris Falcon III® RF-7850A-MR Multi-channel Airborne Networking Radio: World's first certified airborne two-channel networking radio extends ground tactical capabilities to the aerial tier.
Harris Falcon III® RF-7850M-HH Multiband Networking Handheld Radio: Delivers the power and performance of a manpack in a ruggedized, SWaP-friendly handheld radio.
Harris Falcon III® RF-7850M-V51x Vehicular/Base Multiband Radio System: System provides superior Combat Net Radio performance and flexibility.
BeOn® Secure Group Communications Application: Secure group-communications app that enables Push-to-Talk (PTT) and real-time location and presence information.
CorvusEye: Wide Area Motion Imagery (WAMI) system helps users monitor activity, track movement, and gather critical intelligence over a city-size area.
T7 Robotic Explosive Ordnance Disposal (EOD) System: Robot features intuitive control and human-like dexterity - making it easy to complete complex tasks with minimal training time.