January 19, 2017, 8:36 p.m. EST: The launch of a United Launch Alliance Atlas V carrying the SBIRS GEO Flight 3 mission was scrubbed today due to a violation of Eastern Range safety criteria.

The launch is planned for Friday, January 20, from Space Launch Complex-41 at Cape Canaveral Air Force Station. The launch window is 7:42-8:22 p.m. EST.
This mission marks the 34th Atlas V mission in the 401 configuration; the two previous SBIRS GEO missions also launched on the Atlas V 401 rocket.
An Atlas V 401 will launch the Space-Based Infrared System (SBIRS) GEO Flight 3 mission for the US Air Force.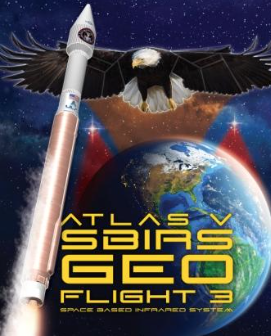 Mission Description: SBIRS, considered one of the nation's highest priority space programs, is designed to provide global, persistent, infrared surveillance capabilities to meet 21st century demands in four national security mission areas including: missile warning, missile defense, technical intelligence and battlespace awareness.
The United Launch Alliance booster will deploy the Space Base Infrared System Geosynchronous Earth Orbit satellite No. 3, or SBIRS GEO Flight 3, to provide missile detection and early-warning notices of incoming threats.
"On launch day, a surface trough pushes into North Florida with moisture gradually increasing through the day. Isolated showers are possible mid to late afternoon. Westerly winds in the steering levels will bring interior showers toward the east coast. Near sunset and with the loss of diurnal heating, showers are expected to trend down," Air Force meteorologists said today.
"The primary concern for launch is cumulus clouds and thick clouds associated with the proximity of the surface trough and upper level disturbance."