Statement Re: Intelsat 31 Delivered To Transfer Orbit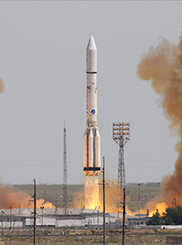 The following is a statement from International Launch Services (ILS) and Khrunichev State Research and Production Space Center (Khrunichev) on the ILS Proton Breeze M launch of the Intelsat 31 satellite on June 9, 2016 from the Baikonur Cosmodrome:
The ILS Proton Breeze M launch vehicle successfully delivered the Intelsat 31 spacecraft to its Super Synchronous Transfer Orbit on June 9. Both ILS and Khrunichev confirm that the flight path was within requirements with a precise satellite injection orbit of 3428 x 64,964 km, inclined 29.53 degrees and within 1.1 m/s of the target, well within Interface Control Document (ICD) requirements. Telemetry data is currently being processed.
Intelsat S.A., operator of the world's first Globalized Network, powered by its leading satellite backbone, and International Launch Services (ILS) announced today that an ILS Proton Breeze M successfully launched the Intelsat 31 satellite from the Baikonur Cosmodrome in Kazakhstan.
Statement On June 9 Launch
The Proton Breeze M launch vehicle, utilizing a 5-burn Breeze M Supersynchronous Transfer Orbit (SSTO) mission design, lifted off from Pad 24 at 13:10 local time (3:10 ET, 07:10 GMT) from the Baikonur Cosmodrome in Kazakhstan, with the Intelsat 31 satellite on board.
The first three stages of the Proton used a standard ascent profile to place the orbital unit (Breeze M upper stage and the Intelsat 31 satellite) into a sub-orbital trajectory. From this point in the mission, the Breeze M performed planned mission maneuvers to insert the orbital unit first to a circular parking orbit, then to intermediate and transfer orbits, and finally to a Supersynchronous Transfer Orbit where the Intelsat 31 was separated after a 15-hour, 31-minute mission. SSTO missions provide increased heavy-lift performance over GTO mission designs, allowing ILS' customers the capability to maximize spacecraft operational lifetime.
Built for Intelsat by Space Systems Loral (SSL), Intelsat 31 is a 20-kilowatt class Ku-and C-band satellite. The Ku-band payload, known as DLA-2, is designed to provide redundancy for DIRECTV Latin America's distribution services in South America and the Caribbean in a reflection of the company's commitment to providing their subscribers with the highest reliability in the region. The C-band portion enhances Intelsat's existing C-band service infrastructure serving Latin America.
"A launch is always a culmination of years of hard work and dedication that begin with the design and manufacture of the satellite up to its delivery to orbit. We appreciate all of the teams who worked with us to make this program another success, including ILS and Khrunichev for ensuring a successful launch," said Executive Vice President and Chief Technology Officer, Thierry Guillemin.
ILS President Kirk Pysher said, "Our partnership with Intelsat spans 18 years with 12 of their satellites launched to date by Proton with the launch of Intelsat 31. We look forward to extending our partnership further with more launches over the coming years under our Multi Launch Agreement with Intelsat. Each and every team member should be commended for their contributions to the success of the Intelsat 31 mission."
The Proton Breeze M vehicle is built by Khrunichev State Research and Space Production Center (Khrunichev) of Moscow, one of the pillars of the aerospace industry and majority owner of ILS. Proton has a heritage of 412 missions since its maiden flight in 1965. This was the third Proton launch this year and the 12th for Intelsat on ILS Proton.