[SatNews] A 'text book' launch took place Wednesday, July 15 from Space Launch Complex 41 at Cape Canaveral Air Force Station in Florida at 11:36 a.m. EDT.
It takes many to achieve a success this large, all working together for the day when the rocket lifts off. Some of the agencies involved in today's launch are:
ULA's Statement
A United Launch Alliance (ULA) Atlas V rocket successfully launched the 10th Global Positioning System (GPS) IIF satellite for the U.S. Air Force at 11:36 a.m. EDT today from Space Launch Complex-41. This is ULA's sixth launch in 2015 and the 97th successful launch since the company was formed in December 2006.
"Congratulations to the U.S Air Force and the entire mission team on today's successful launch of the 10th GPS IIF satellite! In just a few days, on July 17, the Global Positioning System will celebrate the 20th anniversary of GPS achieving fully operational status," said Jim Sponnick, ULA vice president, Atlas and Delta Programs. "ULA is very proud to play a role in delivering these satellites to orbit, with Atlas and Delta rockets having launched all 58 operational GPS satellites."
This mission was launched aboard an Atlas V Evolved Expendable Launch Vehicle (EELV) 401 configuration vehicle, which includes a 4-meter-diameter payload fairing. The Atlas booster for this mission was powered by the RD AMROSS RD-180 engine, and the Centaur upper stage was powered by a single Aerojet Rocketdyne RL10-C engine. This was ULA's 27th launch of the 401 configuration, and ULA's 55th mission to launch on an Atlas V rocket.
ULA's next launch is the Delta IV WGS-7 mission for the U. S. Air Force, scheduled for July 22 from Space Launch Complex-37 from Cape Canaveral Air Force Station, Florida.
GPS IIF-10 is one of the next-generation GPS satellites, incorporating various improvements to provide greater accuracy, increased signals, and enhanced performance for users. GPS IIF-10 is the 10th in a series of next-generation GPS satellites and will join a worldwide timing and navigation system utilizing 24 satellites in six different planes, with a minimum of four satellites per plane positioned in orbit approximately 11,000 miles above the Earth's surface. GPS satellites serve and protect our warfighters by providing navigational assistance for U.S. military operations on land, at sea, and in the air. Civilian users around the world also use and depend on GPS for highly accurate time, location, and velocity information.
The EELV program was established by the United States Air Force to provide assured access to space for Department of Defense and other government payloads. The commercially developed EELV program supports the full range of government mission requirements, while delivering on schedule and providing significant cost savings over the heritage launch systems.
With more than a century of combined heritage, United Launch Alliance is the nation's most experienced and reliable launch service provider. ULA has successfully delivered more than 95 satellites to orbit that provide critical capabilities for troops in the field, aid meteorologists in tracking severe weather, enable personal device-based GPS navigation and unlock the mysteries of our solar system.
United States Air Force
The U.S. Air Force and its mission partners successfully launched the 10th Boeing-built Global Positioning System IIF satellite aboard a United Launch Alliance Atlas V launch vehicle from Space Launch Complex 41, Cape Canaveral AFS, Fla. at 11:36 a.m. EDT.

"Today's successful launch is a testament to the outstanding team work of government and industry partners' commitment to mission success. The GPS IIF satellites are critical for GPS constellation global service for years to come," said Lt. Gen. Samuel Greaves, Space and Missile Systems Center commander. "Thanks to the men and women of SMC, the 45th, 50th, 310th Space Wings, Boeing, United Launch Alliance, The Aerospace Corporation, the GPS IIF, and the Atlas V launch teams, we are sustaining and modernizing the world's greatest space-based, precise positioning, navigation and timing service."

The Boeing-built GPS IIF satellites provide improved signals to support both the warfighter and the growing civilian needs of our global economy. The GPS IIF satellites will provide improved accuracy through advanced atomic clocks, a longer design life than previous GPS satellites, and a new operational third civil signal (L5) that benefits commercial aviation and safety-of-life applications. It will also continue to deploy the modernized capabilities that began with the GPS IIR satellites, including a more robust military signal.

Operated by U.S. Air Force Space Command, the GPS constellation provides worldwide positioning and navigation support seven days a week, 24-hours a day. 2015 marks the 20th anniversary of the GPS System achieving Full Operational Capability.

Air Force Space Command's Space and Missile Systems Center, located at Los Angeles Air Force Base, California, is the U.S. Air Force's center of acquisition excellence for acquiring and developing military space systems. Its portfolio includes the Global Positioning System, military satellite communications, defense meteorological satellites, space launch and range systems, satellite control networks, space based infrared systems and space situational awareness capabilities.
Aerojet Rocketdyne
Aerojet Rocketdyne (NYSE: AJRD) helped successfully propel another in the series of Global Positioning Systems (GPS) IIF military navigation satellites into orbit today. The latest mission was launched from Cape Canaveral Air Force Station in Florida aboard a United Launch Alliance (ULA) Atlas V rocket. Aerojet Rocketdyne propulsion included an RL10C-1 upper-stage engine, six helium pressurization tanks and a dozen Centaur upper-stage thrusters for roll, pitch, yaw and settling burns.
The GPS satellite, built by the Boeing Company in El Segundo, California, includes a pair of Aerojet Rocketdyne propulsion systems provided by the Space Systems Business Unit in Redmond, Washington. These systems are used periodically to keep the satellites in their designated orbits and to eventually decommission them.
"Aerojet Rocketdyne is honored to provide the propulsion that enables critical GPS satellites to keep our troops and allied forces safe, as well as provide important navigation for commercial and civilian users around the world," said Aerojet Rocketdyne Chief Executive Officer and President Eileen Drake. "Congratulations to all Aerojet Rocketdyne employees whose hard work and dedication on our in-space propulsion systems have enabled 100 percent mission success on all the GPS missions."
Aerojet Rocketdyne's primary role began after the Atlas V lifted off the pad and the Centaur upper stage separated from the launch vehicle. At that time, a single RL10C-1 engine ignited to place the payload into orbit, helped by the Centaur thruster and other Aerojet Rocketdyne-provided hardware for both the booster and upper stage. The RL10C-1 engine, manufactured at Aerojet Rocketdyne's West Palm Beach, Florida facility, delivers 22,890 pounds of thrust to power the upper stage, using cryogenic liquid hydrogen and liquid oxygen propellants during its operation. ARDÉ, a subsidiary of Aerojet Rocketdyne based in New Jersey, provided the pressure vessels on the first and second stages of the launch vehicle. The Aerojet Rocketdyne facility in Redmond, Washington provided the small Centaur upper stage thrusters.
The IIF satellites are designed to improve navigational accuracy for civil, commercial and defense applications worldwide. They feature more capability and improved mission performance, including predicted signal accuracy that is two times greater than heritage satellites; a 12-year lifespan that provides longer service and reduced operating costs; and a military signal that has better resistance to jamming in hostile conflict areas. Aerojet Rocketdyne in-space propulsion systems have provided 100 percent mission success on all GPS missions over their lifetime.
Orbital ATK
Orbital ATK (NYSE: OA), a global leader in aerospace and defense technologies, supplied products from multiple company locations across the United States that helped enable the successful launch of both the United Launch Alliance (ULA) Atlas V vehicle and the GPS satellite that was deployed today from Cape Canaveral Air Force Station, Florida.
[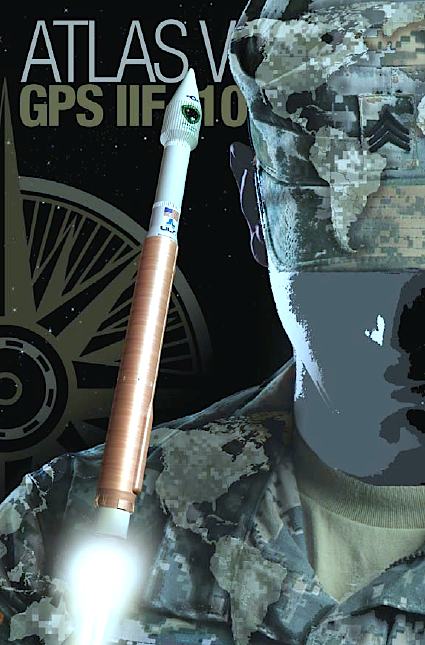 The 10th GPS IIF satellite in the constellation will replace older, first-generation GPS satellites and provide improved accuracy, signal strength and quality to America's warfighters, allies and civilian users worldwide. Boeing (NYSE: BA) designed and built the GPS IIF satellite for the U.S. Air Force.
"The Atlas V and GPS programs encompass the scope and scale of Orbital ATK's highly engineered products and affordable innovation," said Scott Lehr, President of Orbital ATK's Flight Systems Group. "Both military and civilian GPS users around the world will benefit from increased capability as a result of our team's collective dedication and execution excellence."

The Orbital ATK components on both the Atlas V launch vehicle and GPS satellite utilize the latest technologies from multiple Orbital ATK facilities. These include large composite structures, retro motors, and state-of-the art solar arrays and other critical components on the GPS IIF satellite.

For the ULA Atlas V rocket, Orbital ATK produced the 10-foot diameter composite heat shield, which provides higher performance with lower weight, and essential protection for the first stage of the launch vehicle from engine exhaust temperatures in excess of 4,000 degrees Fahrenheit. Orbital ATK fabricated the assembly using advanced fiber placement manufacturing techniques at the company's Iuka, Mississippi facility. This is the 55th Atlas V launch using Orbital ATK-built composite structures.

This launch also marked the 20th successful flight of Orbital ATK-produced retro motors. Eight of these solid motors supported separation of the spent first stage. The Atlas retrorocket is built at Orbital ATK's facility in Elkton, Maryland.

For the GPS IIF-10 satellite, Orbital ATK provided a host of products and services.
Orbital ATK's Goleta, California facility designed and manufactured the satellite solar arrays and a deployment boom. Orbital ATK has achieved 100 percent on-orbit success on all solar arrays and deployable systems delivered and launched to date.
Orbital ATK's San Diego, California facility manufactured the composite solar array substrates.
Orbital ATK's Commerce, California facility had responsibility for the ullage tank assembly, including the blankets, heaters, thermistors and pressurant lines. This tank is a spherical vessel constructed of titanium.
Orbital ATK's Beltsville, Maryland facility provided heat pipes for the GPS IIF equipment and radiator panels.
Orbital ATK's Rancho Bernardo, California facility performed final assembly and RF (Radio Frequency) testing of the antenna suite for GPS IIF between 2003 and 2010.
The Block IIF series provides improved accuracy, enhanced internal atomic clocks, better anti-jam resistance, a civil signal for commercial aviation and a longer design life. The GPS IIF-10 satellite provides space-based system global location and time information in all weather conditions.