[SatNews] Fires...not good news whenever or wherever they occur, but now there is support for aerial firefighting.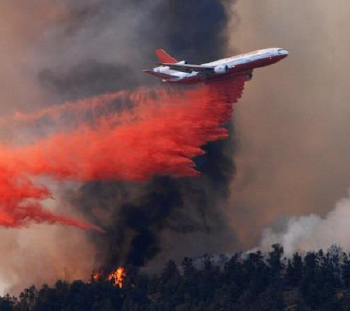 SkyTrac Systems announced that 10 Tanker Air Carrier has chosen to utilize their flight data monitoring solution in their fleet of aerial firefighting DC-10 jets.
SkyWeb, SkyTrac's web-based aircraft mapping and management program, combined with the ISAT-200A transceiver, supports aerial firefighting operations by making flight data, such as aircraft position, speed and exceedances, as well as operational load monitoring capabilities and drop placement available in real-time. The critical flight tracking data is transmitted to operations centers that coordinate the firefighting efforts on the ground and in the air.
SkyTrac's High Resolution Data feature can be activated to provide high fidelity 1-second position updates for extreme accuracy in aircraft position. This gives operators access to enhanced fleet situational awareness and enables them to make quick decisions that can have a positive impact on the safety and effectiveness of aircrews and ground crews.
Visit SkyTrac at Heli Russia in booth 1G18
SkyTrac Systems provides specialized flight support services and technology solutions to enhance flight safety and efficiency at every level in an aviation operation, in the air, on the ground and in the office. With over 185,000 daily satellite transmissions to customers in 50 countries on seven continents, SkyTrac's solutions offer unprecedented connectivity and access to vital aviation information. SkyTrac offers a comprehensive range of certified solutions that combine leading-edge software, firmware and hardware technologies. For more information go to.
10 Tanker Air Carrier incorporated in 2002 to research, develop and operate fixed wing jet aircraft for aerial firefighting. Four years of R&D and the investment of over thirty million dollars of private capital have produced a game-changing innovation: an aerial platform that contains a fire in a faster, safer and less expensive manner than any existing or planned Next Generation aircraft.