[SatNews] "Our tremendous success rate is a record we are proud of."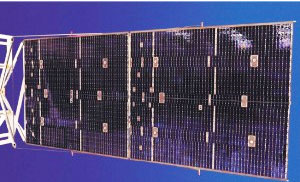 ATK's (NYSE: ATK) Space Components Division in Goleta, California signed a contract with Israel Aerospace Industries (IAI) to provide the solar array to power the AMOS-6 (Affordable Modular Optimized Satellite). The solar array is ATK's heritage Planar Unfolding Modular Array (PUMA), which has demonstrated low non-recurring engineering cost (NRE), low risk, ease of satellite implementation, and 100-percent flight success performance on more than 50 solar array wings on-orbit.
With variants having been in continuous production for more than 10 years for programs like Boeing's GPS-IIF satellites and Orbital's STAR2 geosynchronous (GEO) satellites, ATK's PUMA array platform was a natural fit for IAI's high-power commercial needs.
"We are pleased with this award for our modular PUMA solar array platform, which was adapted to meet the required 10.3 kW end-of-life power for the AMOS-6 communication satellite," said David Shanahan, vice president and general manager, ATK Space Components Division. "Our tremendous success rate is a record we are proud of." The contract calls for delivery of ATK's solar array in 18 months, with the option to perform work on the AMOS-7 solar array should IAI receive the follow-on contract from Spacecom in Israel.
ATK is an aerospace, defense, and commercial products company with operations in 21 states, Puerto Rico, and internationally.