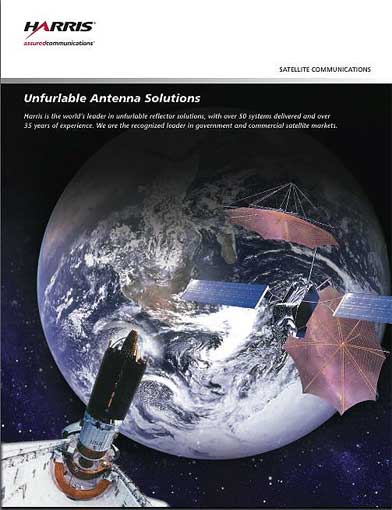 [SatNews] Mission accomplished, and it's a good reflection on the developer.
Harris Corporation [NYSE:HRS], an international communications and information technology company, has delivered two unfurlable mesh reflectors to Lockheed Martin Space Systems in Sunnyvale, California for integration on the first Mobile User Objective System (MUOS) satellite, an Ultra High Frequency (UHF) satellite communications system under development for the U.S. Navy.
MUOS will deliver next-generation narrowband tactical satellite communications with 10 times more capability to warfighters, while maintaining compatibility with legacy UHF systems. MUOS leverages the latest commercial advances in cellular and satellite technology to provide military users enhanced "on the move" data rates and priority-based access to on-demand voice, video and data transfers.
Harris delivered a 5.4-meter deployable mesh reflector for legacy mission operations, and a 14-meter deployable mesh reflector for multiple-beam operations that significantly increase the number of users and traffic the system can support. Harris also provided the related boom assemblies for the reflectors.
"This delivery is a key milestone in the MUOS satellite program and a very important achievement for the Harris team," said
Sheldon Fox
,
group president, Harris Government Communications Systems
. "We will continue to support Lockheed Martin and the Navy's Communications Satellite Program Office in this phase of the MUOS program and through spacecraft launch, antenna deployments and successful operation."
Harris has more than 30 years of experience designing, building and flying space-borne antennas for government and commercial applications. Products range from unfurlable mesh reflectors, steerable and phased array antennas, to reconfigurable payload solutions. The MUOS products are part of an extensive portfolio of Harris reflectors tailored to match mission needs for both government and commercial markets.
Harris reflector solutions range in size from 5 meters to 22 meters, and frequencies from UHF to Ka-Band
.