[Satnews] ULA successfully launches its first mission of the year...
Statement from ULA
United Launch Alliance Successfully Launches GPS IIF-12 Satellite for US Air Force. The launch marks ULA's first launch for 2016 and the final launch of the GPS IIF block.
Cape Canaveral Air Force Station, Florida, (February 5, 2016) – United Launch Alliance (ULA) successfully launched its first mission of the year with an Atlas V rocket carrying the Global Positioning System (GPS) IIF-12 satellite for the US Air Force. The rocket lifted off from Space Launch Complex-41 on February 5 at 8:38 a.m. EST.
GPS IIF-12 is the final satellite in the IIF-block of satellites, which are the next-generation GPS satellites that incorporate numerous improvements to provide greater accuracy, increased signals and enhanced performance for users. This mission was ULA's 104th successful launch since the company was formed in December 2006.
"Congratulations to the ULA, Boeing and Air Force teams on the successful launch of GPS IIF-12. We began launching the IIF satellites in May 2010 and have appreciated the outstanding teamwork of everyone involved as we have worked together to deliver all 12 IIF satellites. This system provides incredible capabilities to our women and men in uniform while enabling so many technologies that impact all of our daily lives. We are proud to be GPS's ride to space," said Laura Maginnis, ULA vice president, Custom Services.
The mission was launched aboard an Atlas V Evolved Expendable Launch Vehicle (EELV) 401 configuration vehicle, which includes a 4-meter diameter payload fairing. The Atlas booster for this mission was powered by the RD AMROSS RD-180 engine, and the Centaur upper stage was powered by the Aerojet Rocketdyne RL10C-1 engine.
Today's flight utilizes a newly designed suite of avionics, flight software and ground systems. This upgraded command and control system was designed to reduce cost and improve reliability.
ULA's next launch is the Delta IV NROL-45 mission for the National Reconnaissance Office, scheduled for Feb. 10 from Space Launch Complex-6 from Vandenberg Air Force Base, California.
The EELV program was established by the U.S. Air Force to provide assured access to space for Department of Defense and other government payloads. The commercially developed EELV program supports the full range of government mission requirements, while delivering on schedule and providing significant cost savings over the heritage launch systems.
With more than a century of combined heritage, United Launch Alliance is the nation's most experienced and reliable launch service provider. ULA has successfully delivered more than 100 satellites to orbit that provide critical capabilities for troops in the field, aid meteorologists in tracking severe weather, enable personal device-based GPS navigation and unlock the mysteries of our solar system.
End ULA Statement
Friday's launch will deploy the last of twelve Block IIF satellites for the United States Air Force's Global Positioning System (GPS).
Initiated to provide precise location and navigational data to the US military, the GPS constellation is used worldwide for both civil and military purposes—and although Russia and China have developed their own global navigation systems in the GLONASS and Beidou constellations, with Europe continuing to develop its Galileo system, the majority of satellite navigation receivers rely upon GPS satellites.
The Navstar Global Positioning System (GPS) is a constellation of satellites that provides navigation data to military and civilian users worldwide. The system is operated and controlled by the 50th Space Wing, located at Schriever Air Force Base, Colorado.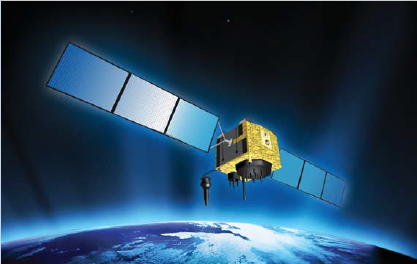 GPS utilizes 24 satellites, in six different planes, with a minimum of four satellites per plane, positioned in orbit approximately 11,000 nautical miles above the Earth's surface. The satellites continuously transmit digital radio signals pertaining to the exact time (using atomic clocks) and exact location of the satellites. The GPS IIF series have a design life of 12 years. With the proper equipment, users can receive these signals to calculate time, location, and velocity. The signals are so accurate that time can be measured to within a millionth of a second, velocity within a fraction of a mile per hour, and location to within feet. Receivers have been developed for use in aircraft, ships, land vehicles, and to hand carry.
Payload Fairing
The GPS IIF-12 spacecraft is encapsulated in the 4-m (14-ft) diameter large payload fairing (LPF). The LPF is a bisector (two-piece shell) fairing consisting of aluminum skin/stringer construction with vertical split-line longerons. The vehicle's height with the PLF is approximately 189 ft.
Centaur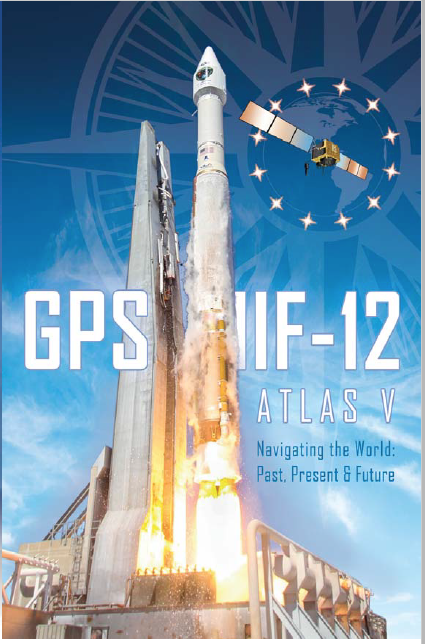 The Centaur second stage is 10 ft in diameter and 41.5 ft in length. Its propellant tanks are constructed of pressure-stabilized, corrosion resistant stainless steel. Centaur is a liquid hydrogen/liquid oxygen- (cryogenic-) fueled vehicle. It uses a single RL10C engine producing 22,900 lbs. of of thrust.
The cryogenic tanks are insulated with a combination of helium-purged insulation blankets, radiation shields, and spray-on foam insulation (SOFI). The Centaur forward adapter (CFA) provides the structural mountings for the fault-tolerant avionics system and the structural and electrical interfaces with the spacecraft.
Booster
The Atlas V booster is 12.5 ft in diameter and 106.5 ft in length. The booster's tanks are structurally rigid and constructed of isogrid aluminum barrels, spun-formed aluminum domes, and intertank skirts. Atlas booster propulsion is provided by the RD-180 engine system (a single engine with two thrust chambers). The RD-180 burns RP-1 (Rocket Propellant-1 or highly purified kerosene) and liquid oxygen, and delivers 860,200 lb of thrust at sea level. The Atlas V booster is controlled by the Centaur avionics system, which provides guidance, flight control, and vehicle sequencing functions during the booster and Centaur phases of the Web cast available at: http://www.ulalaunch.com