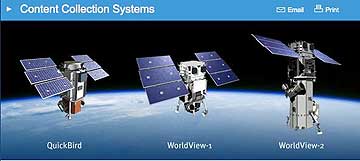 [SatNews] DigitalGlobe (NYSE: DGI) and Lockheed Martin Commercial Launch Services are joining forces.
The result — DigitalGlobe a content provider of high-resolution Earth imagery solutions, has contracted with Lockheed Martin Commercial Launch Services for the launch of WorldView-3
.
In addition, WorldView-3 being the third WorldView-class satellite in DigitalGlobe's constellation. The satellite is scheduled for launch in 2014 and features the same technologies that have helped DigitalGlobe amass the largest high definition satellite image library in the world. The satellite will speed up the daily process of collecting, analyzing and delivering imagery and information to customers.
"
The need for up-to-date satellite imagery and the insights it provides to our government and commercial customers grows every day
," said
DigitalGlobe Chairman and CEO
,
Jill Smith
. "We are significantly
enhancing our commercial satellite constellation with WorldView-3, and are delighted to name Lockheed Martin and its United Launch Alliance subcontractor as our launch services partners.
Their teams have consistently demonstrated the highest degree of reliability on many important space missions. We are confident that our own mission with them will be a success."
WorldView-3 will be launched on a Lockheed Martin Commercial Launch Services-provided Atlas V rocket into a sun-synchronous orbit from Vandenberg AFB, California, and will be operational approximately 90 days after launch.
With WorldView-3 in orbit, the DigitalGlobe constellation will be capable of collecting more than 1 billion square kilometers per year.
WorldView-3 will be the third DigitalGlobe satellite to feature Control Moment Gyros (CMG), which makes DigitalGlobe's satellites more agile so that they can collect imagery of larger areas faster and with greater flexibility.
It will also be the
second satellite to feature 8-band multi-spectral technology, which allows DigitalGlobe to collect more data from images; automatically extract more information from them; and deliver deeper insight to customers.
Both technologies are currently available
exclusively within the DigitalGlobe constellation
.
DigitalGlobe continues to expect that its
total capital spending program
associated with EnhancedView, including the launch of WorldView-3 and expanded ground infrastructure, will be approximately
$650 million between 2010 and 2014.