It may be nearing the year's end, but there is still a great deal of activity at Arianespace's Spaceport in French Guiana as evidenced by the Ariane 5 launch vehicle for Arianespace's 10th mission of 2018 which is now fully assembled following integration of its two satellite passengers at the Spaceport in French Guiana.
This step clears the way for final checkout, which will enable the launch readiness review to be conducted on November 30, followed by Ariane 5's rollout to the Spaceport's ELA-3 launch zone the following Monday, and an early evening liftoff on Tuesday, December 4.

During activity in Ariane 5's Final Assembly Building, the upper payload component — containing GSAT-11, mounted on its SYLDA dispenser system and protected by an ogive-shaped fairing — was lowered into position over GEO-KOMPSAT-2A, which was previously installed atop the launcher's central core stage.

The upcoming mission is designated Flight VA246 in Arianespace's numbering system, and it will inject the two payloads into geostationary transfer orbit.

To be deployed first during the 33-minute flight sequence is GSAT-11, which was designed and assembled by the Indian Space Research Organisation (ISRO). Operating from a final orbital position at 74 deg. East, this advanced communications satellite will deliver multi-spot beam coverage over the Indian mainland and nearby islands — bringing significant advantages to the user community when compared with India's existing INSAT/GSAT satellite systems.

Ariane 5's second passenger — GEO-KOMPSAT-2A — was produced by the Korea Aerospace Research Institute (KARI). It will be used primarily to provide meteorological observation and space weather monitoring, stationed in orbit at 128.2 deg. East.

Flight VA246 will mark Arianespace's 10th mission performed in 2018, and the company's sixth this year using a heavy-lift Ariane 5 — which is one of three launch vehicles operated by Arianespace at the Spaceport, along with the medium-lift Soyuz and light-lift Vega.

Arianespace's launch activity will be available at.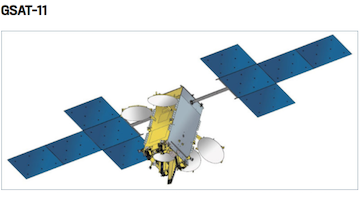 More about GSAT-11
To be installed as Ariane 5's upper passenger, GSAT-11 is an operational telecommunication satellite designed and manufactured by ISRO. By operating GSAT-11, ISRO will again foster the use of space to help bridge the digital divide in the Indian subcontinent as part of its ambitious space program whose objectives are to harness space technology for national development while pursuing space science research and planetary exploration.
To be positioned at 74 degrees East, GSAT-11 — ISRO's largest and heaviest communication satellite ever ̶ is configured on its next-generation I-6K structure to provide communications services from geostationary orbit in Ku- and Ka-bands in both forward and return links. Offering a multi-spot beam coverage over the Indian mainland and nearby islands, GSAT-11 will bring advantages to users when compared with existing INSAT/GSAT satellite systems. Its designed lifetime is more than 15 years.
Since the launch of India's APPLE experimental satellite on Ariane Flight L03 in 1981, Arianespace have orbited 21 satellites and signed 24 launch contracts with the Indian space agency. It has also won almost 90 percent of the geostationary orbit launch contracts opened to non-Indian launch vehicles.
With two additional satellites remaining in Arianespace's order book, the launch of GSAT-11 is to be another demonstration of the strong bond uniting Europe and India in space cooperation.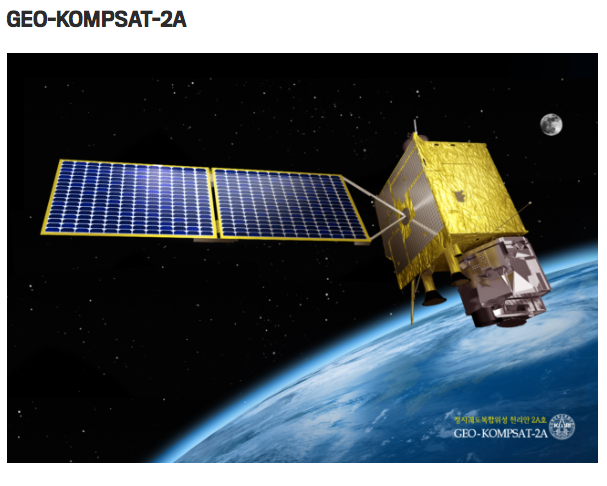 More about GEO-KOMPSAT-2A
The GEO-KOMPSAT-2 program is a national program of the Korean Government to develop and operate two civilian geostationary satellites: GEO-KOMPSAT-2A and -2B.
Positioned on Ariane 5 as Flight VA246's lower passenger, GEO-KOMPSAT-2A is designed to conduct meteorological and space weather monitoring missions (whereas GEO-KOMPSAT-2B is to carry out Earth environment monitoring and ocean monitoring missions).
Covering the Asia-Pacific region, the satellite will be stationed at the 128.2 degrees East orbital location for a 10-year nominal life in service.
Developed by KARI at its facility in Daejeon, South-Korea, this weather satellite will be the 68th Earth observation satellite launched by Arianespace. Such missions represent 10 percent of the total number of satellites orbited by the launch service company.
For nearly 30 years, Arianespace and Korea's satellite technology research centers have developed a sound relationship, with the launch of scientific microsatellites (KITSAT A and B, in 1992 and 1993) as well as the multi-mission COMS satellite (in 2010).
GEO-KOMPSAT-2A will be KARI's second's satellite, and the seventh for South-Korea to be lofted by Arianespace.
By entrusting Arianespace with the launch of its KOMPSAT-7 satellite, KARI confirmed the relevance of its services and solutions toward the dynamic Earth observation market as well as its capacities to help Korea fulfil its ambitions in Space.
Prior to Flight VA246, Arianespace has orbited 588 satellites, out of which 115 were launched for eight space agencies around the world (Europe, France, Italy, Sweden, U.S., India, Korea and Japan).