[SatNews] All is well...
SES S.A. (Euronext Paris and Luxembourg Stock Exchange: SESG) announced today that the ASTRA 2F satellite has successfully completed its in-orbit testing and is now fully operational and in commercial service at the orbital neighborhood of 28.2/28.5 degrees East. The 52nd SES satellite was successfully launched board an Ariane 5 rocket from Kourou, French Guiana, on September 28, 2012.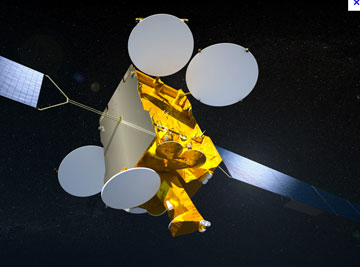 ASTRA 2F was built by Astrium in Toulouse using a Eurostar E3000 platform. The multi-mission satellite carries Ku-band and Ka-band payloads for the delivery of high-performance Direct-to-Home (DTH) and next generation broadband services in Europe and Africa. Of the spacecraft's payload, 48 Ku-band transponders cover Europe and 12 Ku-band transponders are dedicated to sub-Saharan Africa, while 3 Ka-band transponders will allow SES Broadband Services to support download speeds of up to 20 Mbps.
ASTRA 2F is part of a larger fleet replacement and expansion program at the 28.2/28.5 degrees East neighborhood, consisting of ASTRA 2E, 2F and 2G, that provides replacement and growth capacity for the UK and Ireland as well as for other services in and outside of Europe. ASTRA 2E and ASTRA 2G, also under construction with Astrium, are scheduled for launch in 2013 and 2014 respectively.
On September 28, after the successful launch, Romain Bausch, CEO of SES said, "The successful launch of ASTRA 2F is part of our fleet replacement and expansion programme. ASTRA 2F will provide seamless replacement capacity for our UK customers like BSkyB, the BBC, ITV, Channel 4 and Channel 5, and will allow us to operate additional capacity at 28.2/28.5 degrees East on SES satellites. This orbital neighborhood today serves close to 13 million DTH homes in the UK and Ireland. We would like to thank our long-standing partners Astrium and Arianespace for this mission success."
ASTRA 2F had a launch mass of 6 tons, generates 13 kW of power, and has a design life of 15 years. It is the fifth Eurostar satellite in the SES fleet. The new spacecraft will be brought into commercial service in the next few weeks following the completion of the extensive in-orbit testing program.