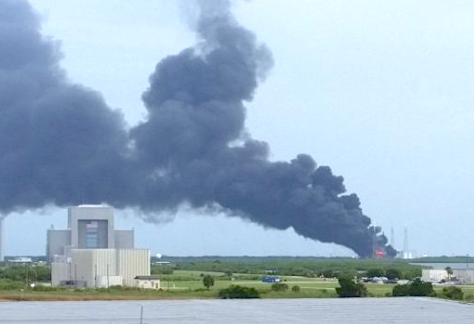 An explosion at SpaceX facility at Cape Canaveral Air Force Station in Florida rocked the surrounding area. A fireball was seen soaring, and multiple explosions were heard, shock waves were even felt in buildings located several miles away at Kennedy Space Center. The rocket was preparing for a test-firing of its nine Merlin main engines as a standard check of their readiness for launch, and the area was cleared for that hazardous operation.
The rocket was scheduled to launch the Amos-6 communications satellite for Israeli company Spacecom at 3 a.m. Saturday. The satellite built by Israeli Aerospace Industries also was destroyed.
Facebook had planned to use some of the satellite's capacity to expand its Internet.org initiative in Africa which would have been Facebook's first satellite to orbit. Facebook and France-based satellite provider Eutelsat spent $95 million for a five year lease on the satellite's Ka-band communication array.
As a plume of smoke twisted into the atmosphere rising from Launch Complex 40 just after 9 a.m. a statement from SpaceX stated, "SpaceX can confirm that in preparation for today's static fire, there was an anomaly on the pad resulting in the loss of the vehicle and its payload. Per standard procedure, the pad was clear and there were no injuries."
KSC's Emergency Operations Center personnel were monitoring the situation and standing by to assist if required, and the environmental health office was monitoring air quality to ensure it is safe for employees, said spokesman Mike Curie.
In addition to launching satellites and International Space Station cargo, SpaceX is one of two companies, along with Boeing, that are preparing to launch astronauts to the ISS in the next 18 months.
The Falcon 9 suffered its only in-flight failure in June 2015, when an oxidizer tank ruptured in the rocket's upper stage.