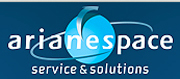 [Satnews] Arianespace wrapped up a high-profile presence at lasat week's tradeshow event at National Harbor in Maryland.
Throughout the conference and exhibition, Arianespace spotlighted their strategy of providing reliability and availability with a complete launcher family. The company's capabilities were demonstrated by the latest Ariane 5 mission success that orbited EUTELSAT 65 West A from French Guiana on March 9, which was watched by top executives of Eutelsat and satellite manufacturer SSL during a video broadcast shown live at the convention.
After this latest on-target payload delivery, Chairman and CEO Stéphane Israël underscored the advantages of Arianespace's launcher range—composed of the heavy-lift Ariane 5, medium-lift Soyuz and lightweight Vega. Arianespace's competitiveness will continue through future introductions of the follow-on Ariane 6 and improved Vega C, as well as new governance that is entrusting more responsibility to the European industry that builds and supplies these launchers.
"This new roadmap is needed and is acclaimed by all our customers. These customers ask us not to 'copy this or that,' but instead to build on our strengths: reliability, availability—and, with Ariane 6, providing increased modularity and competitiveness," Israël said.
Ariane 6 made its "debut" at the annual Satellite conference this year, with a scale model of the launcher displayed on Arianespace's exhibit stand inside the Gaylord Convention Center. During Israë's participation in the launch services panel discussion, he said the Ariane 5's payload delivery performance has been increased since its service entry at no additional cost, and Ariane 6's goal is to reduce recurring operating costs by 40-50 percent—with a launcher that is as powerful, or more powerful, than Ariane 5.
During the launcher panel session, Israël answered a student's question on what attributes are desired for future industry decision-makers. He responded that a good combination is a rigorous mindset for the precision needed to build and operate launchers, along with an open approach to innovation that will enable the launch sector to build its future.