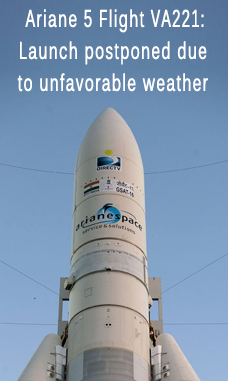 [SatNews] The launch is a no go.
Kourou, December 4, 2014

In keeping with the CNES/CSG safety regulations, the launch of Arianespace Flight 221 has been postponed due to unfavorable weather conditions over the launch pad in Kourou, French Guiana. Flight 221 will place into geostationary transfer orbit the DIRECTV-14 and GSAT-16 telecommunications satellites.

Another launch date will be decided depending on the evolution of the weather conditions in Kourou.
Earlier this week, all the preparations took place without any problems.
Payload lift performance for Ariane 5 is more than 10,200 kg., which includes a combined total of some 9,480 kg. for the DIRECTV-14 and GSAT-16 passengers, plus the launch vehicle's dual-passenger dispenser system and satellite integration hardware.
DIRECTV-14 is installed in the upper payload position on Ariane 5, and is the larger of this mission's two passengers. As a 20-kilowatt class Ka-band and reverse-band digital broadcast satellite built by SSL (Space Systems/Loral), it will deliver Ultra HD and other new consumer services for DIRECTV.
Located in the launcher's lower payload slot, GSAT-16 was developed by the Indian Space Research Organisation (ISRO), and carries Ku- and C-band transponders to further augment communication services across India.
When the launch does take place it will be signifying the 221st liftoff of an Ariane family vehicle from the Spaceport in French Guiana.
Follow Arianespace's launch activity at.