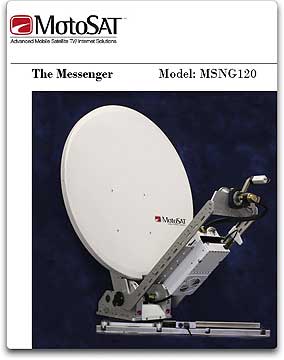 MotoSAT debuts its Messenger™ series antenna, described as the most advanced mobile VSAT system to date that was designed specifically to meet the technical and environmental demands of the digital satellite news gathering (DSNG) industry at this year's National Association of Broadcasters Convention (NAB 2009) in Las Vegas at booth OE430.
MotoSAT will be demonstrating the Messenger's electronic news gathering (ENG) and video conferencing capabilities during NAB 2009 at its outdoor booth.
The Messenger series was
developed for mobile auto pointing Ku-band antennas
. Its rugged design and compact dimensions allow it to fit a wide variety of mobile applications and industries. The Messenger's all-new dual compound gearing drive for elevation and azimuth control provides quick and accurate positioning with zero-backlash. Messenger is compatible with a wide range of HPA-BUC configurations, which is critical for supporting high definition broadcasting (MPEG-4), satellite news gathering (SNG), and video conferencing. The Messenger series is available in 1.2 Meter or .98 Meter reflectors.
"The Messenger antenna is
going to bring electronic news gathering and video broadcasting within reach of a whole new generation of customers
," said
Jim Pendleton
,
president and CEO of MotoSAT
. "When combined with our new DVB S2 controllers,
the Messenger becomes a single button, single operator process, making it a very cost effective solution for the broadcasting industry
. MotoSAT is also expecting the Messenger to become a viable option for many of our customers in the
oil and gas, government and military, and emergency response industries
who need reliable satellite broadband service under extreme environmental conditions."