The Atlas V launch carrying the NROL-79 satellite for the National Reconnaissance Office is confirmed on the Western Range for March 1.
Date/Site/Launch Time: Wednesday, March 1, 2017, from Space Launch Complex (SLC)-3 at Vandenberg Air Force Base, California.

Launch Notes: NROL-79 will mark the 70th Atlas V launch and the 35th in the 401 configuration since the rocket's inaugural mission in 2002.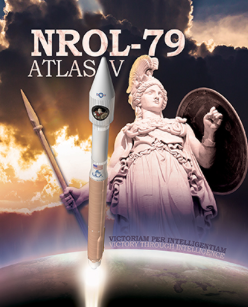 This is an adjusted launch date as in January ULA stated the NROL-79 mission would be delayed saying, "The team is actively working to resolve Atlas V second stage booster issues discovered during vehicle testing."
At the time, ULA had been working to determine if the Atlas V's second stage was declared ready to support the flight. That issue has been resolved and now the mission for the National Reconnaissance Office is ready to launch from Vandenberg Air Force Base's Space Launch Complex 3E (East).
This will be ULA's second launch of 11 planned for 2017. The first occurred January 20, in which an Atlas V launched the SBIRS GEO-3 spacecraft. That was also the first of four the company is expected to launch for the US military (NROL-79 will be the second).
Rocket/Payload:A United Launch Alliance Atlas V 401 configuration rocket will launch the NROL-79 mission for the National Reconnaissance Office (NRO).