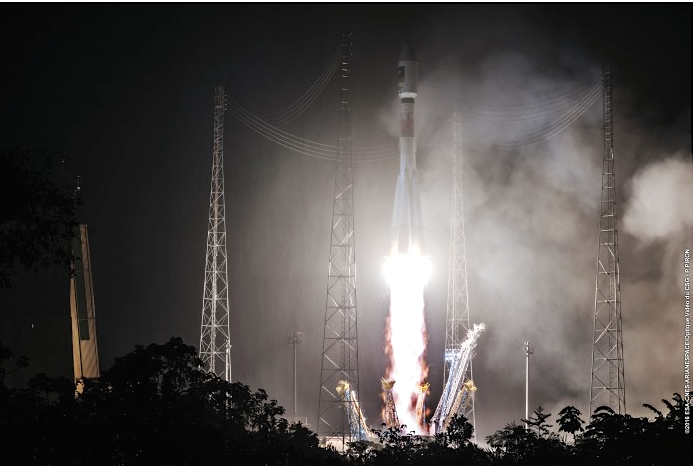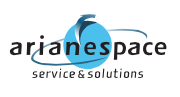 Another successful launch that adds two more satellites to the Galileo constellation. Now just two more remaining to complete the family.
With another successful Soyuz launch performed to expand the Galileo satellite navigation system, Arianespace today reaffirmed the company's important role in supporting European governments and institutions with independent, reliable and available access to space.
Carried out from the purpose-built ELS launch complex at Europe's Spaceport, Soyuz completed a nearly 3-hour, 48-minute mission to place its Galileo passengers into a targeted circular orbit at an altitude of 23,522 km., inclined 57.394 degrees to the equator. Total payload lift performance was estimated at 1,599 kg.
The flight had an early morning liftoff from the Spaceport—coming at precisely 5:48:43 French Guiana time—and was performed at the service of the European Commission, which is managing the Galileo program's ongoing FOC (Full Operational Capability) phase. Design and procurement agent responsibilities have been delegated to the European Space Agency (ESA) on the Commission's behalf.
It is during the FOC phase that the Galileo network's complete operational and ground infrastructure will be deployed. Today's Soyuz mission —designated Flight VS15—was Arianespace's fifth overall carrying FOC spacecraft in sets of two, following one launch in 2014 (VS09), then three performed last year (VS11, VS12 and VS13). The medium-lift workhorse also lofted a total of four satellites in the program's IOV (In-Orbit Validation) phase in 2011 and 2012.
In his post-launch comments, Arianespace Chairman & CEO Stéphane Israël paid tribute to the European Commission and ESA, and underscored the continued success between these three organizations.
The satellites orbited today—named "Danielé and Alizée after winners of a European Commission-organized painting competition for children—are the 13th and 14th Galileo spacecraft overall to be orbited by Arianespace. They will soon join their "teammates" in the constellation to provide Galileo's initial services, marking another milestone in providing Europe with full autonomy in the field of global positioning, navigation and timing.
At full capability, the Galileo program will provide a European-operated navigation system to deliver highly accurate global positioning services through a satellite constellation in medium-Earth orbit, along with its associated ground infrastructure.
Prime contractor OHB System produced the Galileo FOC satellites, and was congratulated for their role by Arianespace Israël. "OHB is a key shareholder of Arianespace and we are very happy to partner for the success of Galileo."
The spacecraft's onboard payloads were supplied by UK-based Surrey Satellite Technology Limited (SSTL)—a company 99-percent owned by Airbus Defence and Space, which is an Arianespace shareholder, as well.
Israël acknowledged others that contributed to this latest Arianespace success, including State Space Corporation Roscomos and Russia's industrial partners involved in the production and operation of Soyuz; along with the European support companies; the French CNES space agency; the ground contractors in French Guiana and Arianespace's own teams.
Arianespace will conduct another launch for Galileo's FOC phase later in 2016—this time using an Ariane 5 and its heavy-lift capability to orbit a four-satellite payload. Two additional launches of the heavy-lift workhorse in 2017-2018 will bring total Galileo deployments to 26 spacecraft.
The company's next flight from French Guiana will be a dual-passenger Ariane 5 mission scheduled for June 8, which is to orbit the BRIsat and EchoStar 18 spacecraft.
The Galileo Program
The Galileo Program is Europe's initiative for a state-of-the-art global satellite navigation system, providing a highly accurate global positioning service under civilian control. The fully deployed system will consist of 30 satellites and the associated ground infrastructure. Galileo will provide Europe with independence in satellite navigation but will also be inter-operable with GPS and GLONASS, the two other global satellite navigation systems.
In short, Galileo will offer greater:
Precision: Thanks to a greater number of Galileo signals, the new satellite clock design, and improved corrections of ionospheric effects, positions computed with Galileo satellites will be more accurate. When combined with GPS, the higher number of satellites available will also offer higher precision. From most locations, six to eight Galileo satellites will be visible, and in combination with GPS signals, this will allow positioning to within a few centimeters, depending on the service used.
Availability: The high number of satellites will improve the availability of signals in cities where tall buildings can obstruct signals from satellites that are low on the horizon.
Galileo services and applications
Galileo will initially offer three high-performance navigation and positioning services from 2016 at the latest:
Open Service: Galileo open and free of user charge signals set up for navigation and time services;
Public Regulated Service: a special Galileo navigation service using encrypted signals set up for better management of critical transport and emergency services, better law enforcement, improved border control, and safer peace missions;
Search and Rescue Service : Europe's contributionto COSPAS-SARSAT, an international satellite-based search and rescue distress alert detection system.
A Commercial Service that gives access to two additional encrypted signals is being tested since 2015 and will be provided when the system reaches full operational capability:
Together, these services can be used in a wide variety of applications including aviation, search and rescue, and agriculture.