[SatNews] Will the U.S. have enough in the future technical workforce if students aren't involved in STEM?
"Evidence That There is a Significant STEM Workforce Shortage", to be presented at the Symposium on May 20 by Salvador Gonzalez, AT&T. The question the shortage of STEM Workforce: Truth or Hype?
"The truth is that there is little credible evidence of the claimed widespread shortages in the U.S. science and engineering workforce."
- Michael Teitelbaum, The Atlantic, March 19, 2014.

"The role of science, technology, engineering and math cannot be underestimated in preparing AT&T's workforce for the challenges of the future. Innovation is key to economic growth and STEM is a key driver of innovation."

This STEM Workforce shortage debate is among the many sessions that AFCEA and the George Mason University C4I Center will explore in the Critical Issues in C4I Symposium. Academia, industry and government will address the following topics:
Software for Secure Systems
SCADA System and Technology Issues
Machine Execution of Human Intentions
Quantum Computing
The New Robotics Ecosystem for Defense and Security
ISR Sub-Second Cyber Security
The Forecasting Science & Technology (ForEST)
Progress in IT Acquisition Reform
Value Assured Framework (VAF): Risk Revisited
PlugFest as an Enterprise Information System Acquisition Risk Mitigation Methodology
For a complete listing of sessions, speakers and panelists, please click here. Seating is limited at this event so register now to join the discussion. Exhibit and Sponsorship opportunities available.
Plugfest May 22
This year Plugfest is being held as a part of the DI2E Teams week, and participants in the various meetings and reviews of Teams Week will also be attending the Plugfest. For more on Teams Week see the FAQ here.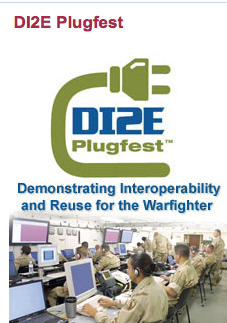 The DI2E Plugfest is the annual demonstration of advancements in the DI2E. The purpose is to provide an environment of networked, interoperable and reusable components, the Plugfest eXchange, where vendors are able to deploy and show their tools to provide flexible, agile and data-driven capabilities to Warfighters. Register here.
UPDATE:
Number of Vendors in Plugfest: 28
Number of Mashup Challenge Teams: 4
Number of Government displays: 5
Latest Addition: the DoD Widget Working Group

April 24th - Last day for to register for a non-Plugfest participant display area.
Teams Week
Each of the 24 participating teams, groups and agencies has been invited to attend the Plugfest.
The Plugfest Program for 2014 adds
Panel of DI2E Program Managers
Lightning Round Presentations for sponsors
Content Discovery and Retrieval Focus
RESTful services
Academic Mashup with the GMU C4I Center
DI2E Teams week participation
The 2014 edition extends DI2E web service access control to support RESTful services, in addition to SOAP. A web single sign-on specification has been added. A main focus for this year's DI2E Plugfest is demonstrating the ability for vendors to support the Content Discovery and Retrieval (CDR) specifications.

Key Dates:
April 24 - Last day for non-plugfest vendor display registration.
May 11 - Attendee Price Increases