The Ariane 5 that will send Europe's historic first mission to the planet Mercury is now complete, marking an important Arianespace milestone as preparations move ahead for the planned October 19 liftoff from French Guiana.
Performed in the Spaceport's Final Assembly Building, Ariane 5's build-up process concluded with the lowering of its ogive-shaped payload fairing over the multi-segment BepiColombo spacecraft — which had been positioned atop the launcher's core section.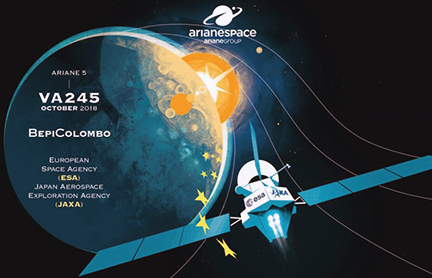 BepiColombo is a joint mission of the European Space Agency and the Japan Aerospace Exploration Agency. Its Mercury Composite Spacecraft (MCS) consists of two orbiters: the Mercury Magnetospheric Orbiter (MMO) and the Mercury Planetary Orbiter (MPO); as well as two additional elements: the Mercury Transfer Module (MTM), and the Magnetospheric Orbiter Sunshield and Interface Structure (MOSIF).
The BepiColombo spacecraft — named after an Italian mathematician and engineer — was built under the industrial leadership of Airbus, which heads a consortium of 83 companies from 16 countries.
Using the Ariane 5 ECA version, this mission has a precise moment of liftoff: October 19 at 10:45:28 p.m. local time in French Guiana, from the Spaceport's ELA-3 launch complex. The heavy-lift workhorse will inject its BepiColombo payload into an Earth escape orbit during a mission lasting nearly 27 minutes from liftoff to final separation.
After launch by Ariane 5, BepiColombo will arrive at Mercury in late 2025. During its one-year nominal mission (with a possible 1-year extension), the MPO and MMO will examine the peculiarities of Mercury's internal structure and magnetic field generation, as well as how the planet interacts with the sun and solar wind.
Next week's launch — designated Flight VA245 — will be the 23rd major scientific mission performed by an Arianespace family vehicle to date. It also underscores the company's primary objective to guarantee Europe's independent and reliable access to space.