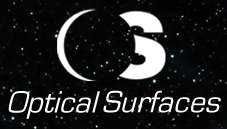 This certainly isn't your typical bathroom mirror that you see yourself in as you brush your teeth. This specially made mirror will have an important job to do once it is in space.
Optical Surfaces Ltd. has answered a challenge and delivered a 300mm diameter off-axis paraboloid and a mounted flat mirror to SIMERA Technology Group (Pty) Ltd - an engineering design and development company specializing in the development of UAV and small satellite optical payload systems.

The production team at Optical Surfaces manufactured the off-axis parabolic mirror with surface accuracy of better than lambda/15 P-V, surface quality of 20/10 scratch/dig and surface slope error of lambda/10/cm P-V. This, together with an ultra-smooth coated reference flat (315 mm diameter), have been produced from Zerodur™ as the main reflective and reference components, for a large flight test alignment collimator under construction in SIMERA Technology Group's optical clean room. This will be the largest and most capable privately-owned facility for testing of airborne and spaceborne optics in South Africa.
Louwrens Marais, Systems Engineer at SIMERA Technology Group commented that the contract for the off-axis parabolic and flat mirrors was awarded to Optical Surfaces Ltd. based upon its proven expertise and experience in producing demanding optical systems for the space and satellite systems community, and that they have been very pleased with the technical expertise shown and the support provided by Optical Surfaces Ltd, both in direct dealings, and through Talex UK Ltd, their UK collaborator. They therefore placed an additional order on Optical Surfaces Ltd for the manufacture ofFlight Model mirrors for a space telescope project SIMERA is currently involved in. These consist of an annular Zerodur™ Primary Mirror, and second-surface Secondary Mirror. Both are chemically etched spherical mirrors, requiring surface accuracies better than lambda/10 P-V.

Optical Surfaces Ltd has been producing optical components and systems for more than 50 years of precision optics for satellite and space borne systems. The company's ISO 9001-2008 approved manufacturing workshops and test facilities are deep underground in a series of tunnels excavated in solid chalk where temperature remains constant and vibration is practically non-existent. With such stable conditions testing, particularly with long path lengths, becomes quantifiable and reliable.