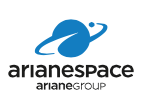 A really big package arrived in French Guiana to prepare for Arianespace's launch in the latter part of May for the ISRO.
The first satellite for Arianespace's Flight VA243, a dual-payload Ariane 5 mission scheduled for the second half of May, has touched down in French Guiana.
Arriving Wednesday aboard a cargo jetliner that landed at Félix Eboué Airport near the French Guiana capital city of Cayenne, the Indian-built GSAT-11 spacecraft was then transferred by road to the Spaceport's S5 payload preparation facility.
GSAT-11 was designed, assembled and integrated by the Indian Space Research Organisation (ISRO), and will have an estimated liftoff mass of 5,870 kg. This advanced communications satellite is to provide multi-spot beam coverage over the Indian mainland and nearby islands, bringing significant advantages to the user community when compared with India's existing INSAT/GSAT satellite systems.

With its new system architecture and technology elements, GSAT-11 will generate a capacity of more than 12 Gbps for users from a single platform.