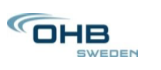 [Satnews] The scientific satellite Odin continues to scan the Earth's atmosphere during 15 revolutions per day and collect measurements. It was launched on February 20, 2001, and tomorrow it enters into its fifteenth year of service, far longer than planned.
The mission is regarded as a great success since scientists studying climate change depend upon long series of measurements. Because Odin measures the atmospheric content globally and at different heights, models for molecular transport can be built. Odin also study phenomena such as noctilucent clouds.
Odin is a satellite designed and built by OHB Sweden, at the time the Space Division at SSC, on behalf of the Swedish National Space Board. The operations are since 2007 also supported by ESA (European Space Agency). The researchers using Odin data are found all over the world. Here in Sweden we find users primarily at Chalmers, at Onsala Space Observatory, at MISU and astronomers at the Stockholm University.