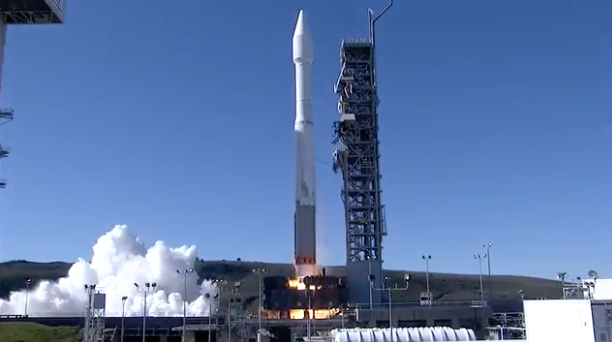 All systems go, and that's what happened with the lift off on a ULA Atlas V rocket on Wednesday, March 1 from Space Launch Complex-3 at Vandenberg Air Force Base in California on a mission for the National Reconnaissance Office (NRO). The RD-180 main engine delivered more than 860,000 lbs of thrust at liftoff that took place at 9:49:51 a.m. Pacific.
Despite several delays of the launch dating back to January 16th of this year due to an issue involving the second stage of the Atlas V launch vehicle the today's launch took place aboard a United Launch Alliance Atlas V 401 basic configuration rocket that successfully launched the NROL-79 on a mission for the National Reconnaissance Office (NRO).
The NRO celebrates 50 years of Supra Et Ultra, but who are they?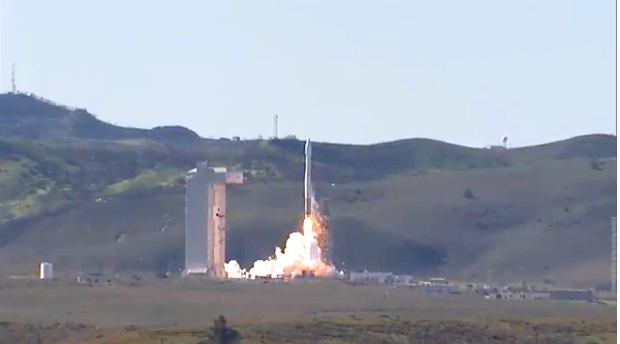 NRO's Identity Statement
Develop. Acquire. Launch. Operate.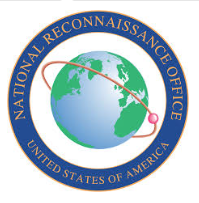 When the United States needs eyes and ears in critical places where no human can reach – be it over the most rugged terrain or through the most hostile territory – it turns to the National Reconnaissance Office (NRO). The NRO is the U.S. Government agency in charge of designing, building, launching, and maintaining America's intelligence satellites. Whether creating the latest innovations in satellite technology, contracting with the most cost-efficient industrial supplier, conducting rigorous launch schedules, or providing the highest-quality products to our customers, we never lose focus on who we are working to protect: our Nation and its citizens.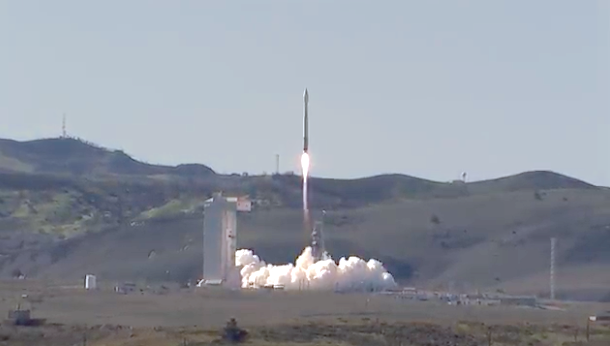 From our inception in 1961 to our declassification to the public in 1992, we have worked tirelessly to provide the best reconnaissance support possible to the Intelligence Community (IC) and Department of Defense (DoD). We are unwavering in our dedication to fulfilling our vision: Supra Et Ultra: Above and Beyond.
Center for the Study of National Reconnaissance's Mission
Our primary mission is to advance and shape the Intelligence Community's understanding of the discipline, practice, and history of national reconnaissance. Our objective is to ensure that NRO Leadership has the analytical framework and historical context to make effective policy and programmatic decisions. We focus on social science and historical research, with a goal to enable the NRO to meet its mission objectives.
United Launch Alliance's Statement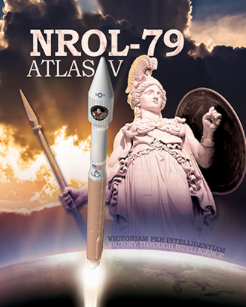 United Launch Alliance Successfully Launches NROL-79 Payload for the National Reconnaissance Office
Vandenberg Air Force Base, Calif., (March 1, 2017) – A United Launch Alliance (ULA) Atlas V rocket carrying a payload for the National Reconnaissance Office (NRO) lifted off from Space Launch Complex-3 March 1 at 9:50 a.m. PST. Designated NROL-79, the mission is in support of national defense.
"I am so impressed by the incredible teamwork between the NRO, U.S. Air Force our industry partners and the ULA team that resulted in today's successful launch. The integrated mission team overcame many challenges, including delays associated with the Vandenberg Canyon Fire last year," said Laura Maginnis, vice president, Government Satellite Launch. "Tragically, Ventura County firefighter Ryan Osler lost his life en route to assist in fighting the fire. We are honored to dedicate today's mission to Ralph and his family. Thank you to all of the men and women who worked to deliver this critical asset for our nation's security."
This mission was launched aboard an Atlas V Evolved Expendable Launch Vehicle (EELV) 401 configuration vehicle, which includes a 4-meter-diameter extended payload fairing. The Atlas booster for this mission was powered by the RD AMROSS RD-180 engine, and the Centaur upper stage was powered by the Aerojet Rocketdyne RL10C-1 engine.
This is ULA's second launch in 2017 and the 117th successful launch since the company was formed in December 2006. ULA's next launch is the Delta IV WGS-9 satellite for the U.S. Air Force. The launch is scheduled for March 8 from Space Launch Complex-37 at Cape Canaveral Air Force Station, Florida.
The EELV program was established by the U.S. Air Force to provide assured access to space for Department of Defense and other government payloads. The commercially developed EELV program supports the full range of government mission requirements, while delivering on schedule and providing significant cost savings over the heritage launch systems.
With more than a century of combined heritage, United Launch Alliance is the nation's most experienced and reliable launch service provider. ULA has successfully delivered more than 115 satellites to orbit that provide critical capabilities for troops in the field, aid meteorologists in tracking severe weather, enable personal device-based GPS navigation and unlock the mysteries of our solar system.
End Statement
What it takes to lift so much so fast...
It takes a huge effort to lift these vehicles into space and those systems that ULA rely on to accomplish this effort are the Atlas V rocket and the RD-180 engine.
The rocket, an Atlas V 400, is part of the Atlas V family, which includes the Atlas V 400 and 500 series, are the latest evolutionary versions of the Atlas launch system. Atlas V uses a standard common core booster™ (CCB), up to five strap-on solid rocket boosters (SRB), an upper-stage Centaur in either the Single-Engine Centaur (SEC) or the Dual-Engine Centaur (DEC) configuration, and one of several payload fairings (PLF). A three-digit (XYZ) naming convention is used for the Atlas V 400 and 500 series. The Atlas V 400 series incorporates the flight proven 4-m diameter 12.0 m (39.3 ft) large payload fairing (LPF), the 12.9 m (42.3 ft) extended payload fairing (EPF), or the 13.8 m (45.3 ft) extended EPF (XEPF).
The RD-180 main engine delivers more than 860,000 lbs of thrust at liftoff and an impressive range of continuous throttling capability, the RD-180 main engine is a powerful combination of innovation and performance. Designed and manufactured by NPO Energomash, the liquid oxygen/liquid kerosene, two-thrust-chamber RD-180 engine is a complete propulsion unit equipped with hydraulics for control valve actuation and thrust vector gimbaling, pneumatics for valve actuation and system purging, and a thrust frame to distribute loads.
Nominal Thrust (sea level): 860,300 lbs
Specific Impulse (sea level): 311 seconds
Length: 140 in Weight: 12,081 lbs
Fuel/Oxidizer: Liquid Oxygen/Liquid Kerosene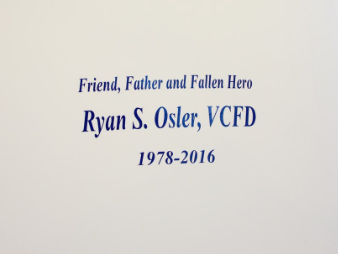 Today's launch and mission is dedicated in memory of Ventura Country FD's RyanOsler who was killed en route to fight the Canyon Fire in September.