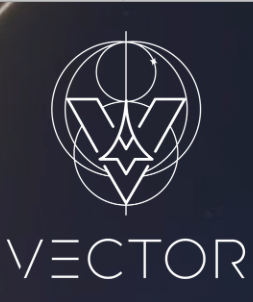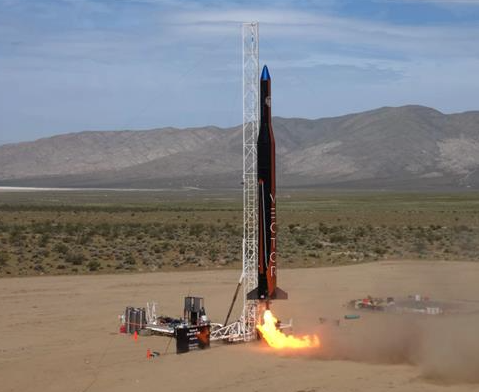 A startup company, Vector Space Systems, comprised of a who's who of folks formerly from major aerospace companies such as SpaceX, Virgin Galactic, McDonnell Douglas, Sea Launch, and VMware has successfully launched a prototype of its Vector-R launch vehicle that was built with 3D printed parts.
Vector, a Tucson, Arizona-based space startup, has successfully launched a prototype of its Vector-R launch vehicle, which features 3D printed parts. The test, which was completed on May 3 near Mohave, California, is reportedly the first of many, as Vector prepares to become one of the first space companies to offer low-cost micro satellite vehicles and launches.
Vector Space Systems was founded in 2016 by the original SpaceX founding team. It now consists of a slew of space industry experts, including veterans from the aforementioned SpaceX, as well as Virgin Galactic, McDonnell Douglas, Sea Launch, and VMware. The startup is one of several that are aiming to break into the small payload launch market, and is now the first to have successfully tested a rocket launch.
Jim Cantrell, Vector co-founder and CEO, said of the successful test launch: "2017 has already been a ground-breaking year for Vector as we continue testing full-scale vehicle engineering models to demonstrate functionality and flight operations. The success of this test not only sets the standard for the swift mobile development of our launch vehicles, but also furthers our mission to revolutionize the spaceflight industry and increase speed to orbit."
Vector first came onto our radar in summer 2016, after it successfully tested a high-performance engine for its launch vehicle as well as its micro satellite's core computing and communications system. More recently, Vector successfully tested a 3D printed injector which was developed and additively manufactured in collaboration with NASA's Flight Opportunities Program.
The 3D printed injector, which was produced in a single piece, was also integrated into the just-tested Vector-R launch vehicle along with the startup's first stage 5K-lbf engine. According to Vector, 3D printing allowed it to not only save on both time and costs in producing the injector, but enabled it to create a higher-quality part through better alignment.
"With this successful in-flight operation of an additively manufactured injector, we have now moved the maturity of this technology to the next level for small launch vehicles," said John Peugeot, NASA's Marshall Space Flight Center project manager for 3D Additive Manufactured (AM). "This represents a critical step in moving AM hardware beyond laboratory testing and toward qualification for real-world applications."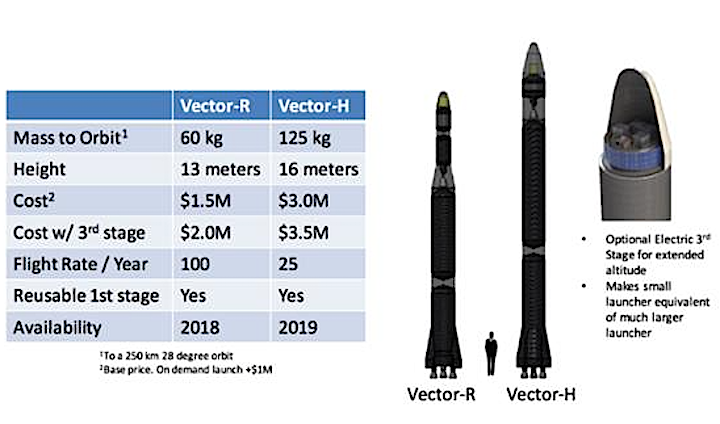 The startup, which is planning to begin its commercial flights as soon as next year, has also entered into an agreement to launch a test flight in Camden County, Georgia. Planned for this summer, the test will be conducted from Spaceport Camden and will help Vector to "further validate" and accelerate its launch vehicles and technologies.
The Vector-R launch vehicle, which at 13 meters in height is heralded as the smallest satellite launch vehicle, is designed for "rapid and frequent" launches of payloads of up to 50 kg. Built for as many as 100 launches per year, the Vector-R is preparing to partake in 12 commercial launches in 2019. The Tucson-based startup is also developing a slightly larger Vector-H rocket (which measures 16 meters in height and can carry payloads of up to 100 kg). The Vector-H rocket is expected to be ready by mid-2019.