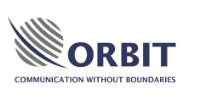 Orbit Communications Systems Ltd.'s (TASE: ORBI) expertise has been recruited by a global defense systems provider who has ordered several AL-4012 digital tracking pedestal systems and control units for a leading air force.
The transaction totals US$700,000 and the product will be delivered in 2018 bringing a total of more than 100 units ordered, to date, by this customer.
Miki Shenkman, Senior Director of Sales and BD, Israel at Orbit said that this deal is a repeat order from a longstanding client that bears testimony to their robust solutions and unwavering attention to customer care.
The mechanics of the AL-4012 digital tracking pedestal systems engage as the tactical reconnaissance pod simultaneously collects high resolution infrared and visual digital images within a very wide field of view. The images and data annotation are recorded on a solid-state recorder and transmitted to the ground station for real-time interpretation.
An integral part of the ground station, Orbit's AL-4012 digital tracking pedestal solution features:
elevation-over-azimuth axes configuration with optional stabilization
a digital servo amplifier to control antenna motion
highly dynamic, low-backlash motion capabilities for outstanding accuracy
brushless motor and planetary gear assembly for easy maintenance and high reliability
modular and easily maintainable
robust, reliable and environmentally durable
The AL-4012 is Orbit's most compact, portable and light-weight solution for field-based applications that require accurate tracking capabilities, such as UAS command and control, telemetry and stabilized point-to-point RF communications. The AL-4012 is a self-contained elevation-over-azimuth tracking positioner that delivers high performance under demanding field conditions. Easy to deploy, it may be ground-based, transportable or shipboard (with additional stabilization) to fit specific needs.