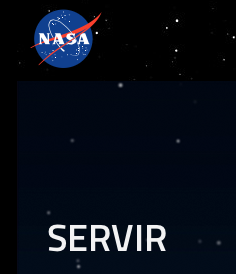 [SatNews] An innovative software code developed by a pair of interns who worked for SERVIR last summer is proving remarkably useful in support of disaster response in Nepal after the April 25, 2015, magnitude 7.8 Gorkha earthquake and subsequent aftershocks.
The SERVIR Coordination Office at NASA's Marshall Space Flight Center in Huntsville, Alabama is assisting the International Center for Integrated Mountain Development, ICIMOD, in the Himalaya disaster recovery mapping efforts in Nepal. SERVIR and its partners are identifying quake-affected sites and tasking NASA satellites to image them. They are also selecting commercial high-resolution imagery of the most affected areas to support recovery. However, these high-resolution images are too large to be received on location in Nepal, where bandwidth is currently limited.
Developed by summer interns Sajay De La Puente and Xien Thomas, the software code makes it possible for the SERVIR team to create a predefined grid to segment the large disaster images into subsets or 'tiles' that can be transmitted and received more easily than the large file, and to reconstruct the pieces on the recipient's side. It is allowing the recipient—ICIMOD/SERVIR-Himalaya—to receive and print the images and provide them to Nepal government agencies to guide recovery efforts and help those in need.
"Our interns are assigned projects to develop solutions for addressing issues relevant to SERVIR's overall aim: to help developing countries use information provided by Earth observing satellites and geospatial technologies to manage climate risks and land use, "explains SERVIR Project Director Dan Irwin. "We are so pleased that we can take what they created and use it to help people in a critical real-world situation."
De La Puente, now a fourth year computer engineering student at Florida International University, and Thomas, studying computer science at Texas Southern, developed the code to enhance SERVIR's existing Clip, Zip, and Ship tool. Clip, Zip, and Ship is designed to make it easy for data analysts to get the information they need for making decisions related not only to disaster response but also to environmental issues such as land cover change, ecosystems, and more. With the enhancement engineered by the two interns, the tool can define an area of interest on a map by outlining it with a drawing tool, and automatically download relevant SERVIR datasets (soil, land cover and land use, ecosystems, or any other SERVIR product that has a geospatial element) for that area, extracted from more than 30 gigabytes of spatial data stored across multiple geospatial databases. A background process extracts the data within the selected area, creates a compressed package, and provides links for the files of interest.
This segmenting approach allows the analyst and GIS expert to get information for just the areas they need.
"In the case of the Gorkha earthquake, the information has proven invaluable," says Irwin.
For more information about SERVIR, visit NASA's SERVIR page or www.servirglobal.net.