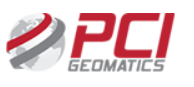 PCI Geomatics announced that "In order to facilitate cooperation and knowledge exchange through strong reciprocal relationships with top educational institutions," the company signed a strategic education alliance agreement with Labgis System – Center of Geotechnologies of the State University of Rio de Janeiro, Brazil.
Under the terms of the agreement, PCI Geomatics, a developer of remote sensing and photogrammetric software and systems, will provide software licenses to support teaching and research in exchange for insights into work being conducted at the university with PCI Geomatics software. The program offers unique opportunities encouraging communication between the university and PCI Geomatics' scientists, and provides an outlet to the commercial world, highlighting the research conducted at the university. The agreement recognizes Labgis System as the sole PCI Technology Center of Excellence in the country of Brazil.
The strategic alliance will provide leading-edge instructional software and materials to students and faculty. By creating webinars, integrating PCI Geomatics software into its research, and developing automated solutions with the Geomatica open source Python API, Labgis System will be able to promote awareness and communicate the potential of remote sensing throughout Brazil.
Freddy Paya, Territory Manager of the Americas at PCI Geomatics stated that PCI Geomatics is very pleased to establish this center of excellence agreement with the State University of Rio de Janeiro (UERJ), a leading academic institution in Brazil. This partnership will allow PCI Geomatics to work closely and collaborate on many upcoming projects, research and development, and knowledge transfer. The company is excited to have the State University of Rio de Janeiro leveraging Geomatica and other technology to innovate, teach, and carry out research and development. Together, they will help develop the next generation of remote sensing experts and scientists in Brazil.
José Augusto Sapienza Ramos, Academic Coordinator of Labgis System said their university receives important technologies that allow high quality mapping, as well as support for research projects on vegetation cover, water resources, urban areas, soil, and several other important topics. They are excited to be teaching and to be creating products using PCI Geomatics technologies. He believes that PCI Geomatics and the Labgis System expertise has much to contribute to the thriving UERJ research community, as well as Brazilian remote sensing community as a whole.