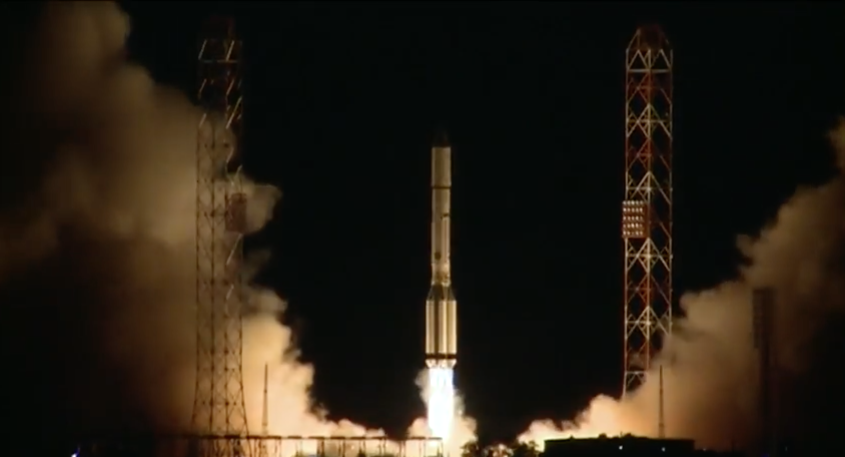 And it's a go for Russia's workhorse, International Launch Services' (ILS) Proton M launch vehicle, utilizing a 5-burn Breeze M mission design rocket that is carrying Asia Satellite Telecommunications' largest satellite replacing the AsiaSat-4 launched 14 years ago in 2003. The launch that occurred at 18:52 UTC of the AsiaSat-9 satellite was from 200/39 site at the Baikonur Cosmodrome in Kazakhstan. Today's launch is the fourth mission of 2017.

The journey for the satellite will be a nine hour launch profile, the standard operating procedure for ILS launches. Geostationary satellites remains ILS' its main customer.
AsiaSat-9 is a replacement satellite for AsiaSat-4 at 122 degrees E- with multiple C-, Ku- and Ka-Band payloads for direct-to-home (DTH) television broadcast, video distribution, VSAT broadband networks and mobility services, and carries the world's first dedicated Ku-band Myanmar beam, new Ku-band beams for Indonesia and Mongolia, in addition to two enhanced Ku-band beams serving Australasia and East Asia and a wider high-power C-band coverage across the Asia-Pacific region.

The five Ku-band beams onboard AsiaSat 9 are equipped with cross-strap beam switching capability to provide flexible coverage. The satellite has innovative and cutting-edge features such as Asia's highest powered 110 watts C-band TWTA, special filter design, star tracker and hall effect thrusters, AsiaSat 9 is able to deliver enhanced performance, higher efficiency and operational stability.
The AsiaSat 9 communications satellite is a SSL 1300 platform spacecraft, with a spacecraft mass of approximately 6,140 kg (13,536 lbs). It will be lofted by the Proton Breeze M that weighs in at 705,000 kg (1,554,000 lbs), including payload.
This marks the 96th ILS Proton launch and 416th Proton launch overall. This is the third ILS Proton launch of 2017 and the fifth AsiaSat satellite launched on an ILS Proton. This is SSL's 31st satellite launched on a Proton.