[Satnews] ..."the purpose of the system is to bring more food to the world..."
Gilat Satcom today announced that it is providing a satellite solution with connectivity over the Iridium network to Cattle-Watch, a new location, behavior monitoring and tracking service for the cattle industry that is being deployed around the world.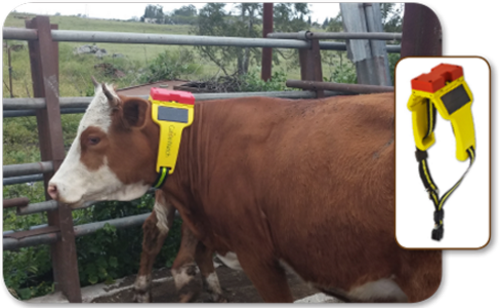 Reliable broadband is vital to the success of Cattle-Watch which provides herd owners with real-time reports about the location, walking, grazing and resting time, water consumption, reproductive condition and other health issues of individual cows, sheep and goats, as well warnings about possible thefts.
Every animal is fitted with an Ear Tag device that feeds information wirelessly to the 4-5 percent of the herd which have solar-powered collars containing the Gilat Satcom M2M satellite solution. Gilat Satcom transmits information from the collar to a web-based and mobile platform developed by Cattle-Watch. From here, information is sent—again using Gilat Satcom's satellite service—immediately to the rancher's computer or smartphone.
Gilat Satcom has established itself as one of the most reliable and consistent providers of broadband satellite connectivity in the world, providing high SLAs and QoS. The company is particularly experienced in providing connectivity to hard to reach locations including rural Africa.
Eran Yoran, CMO and Business Development at Gilat Satcom, said "Gilat Satcom is an extremely flexible and versatile company and we are always on the look-out for the next great idea. Cattle-Watch is one such example and uses IOT/M2M in a most innovative manner. We are delighted that our satellite technology is being used to benefit farmers and improve the wellbeing of animals who are living in a remote and challenging environment."
Ehud Sasi Cattle-Watch CBD stated "the purpose of the system is to bring more food to the world and our cooperation with Gilat Satcom will enable Cattle-Watch to boost the deployment of the system for the benefit of ranchers world-wide."