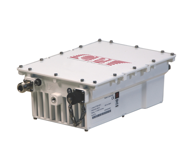 [SatNews] Communications & Power Industries LLC (CPI) has introduced a new 20 W C-band block upconverter (BUC) to the extensive line of solid state miniBUCs offered by its Satcom Products group. The new 20 W miniBUC, with the same interface and compact dimensions as the existing 10 W miniBUC, allows customers to easily upgrade satellite communications terminals for higher data rate transmission. Both of these amplifiers include optional Ethernet/LAN interface, user selectable standard and extended C band operation and CE certification to meet European requirements.
"With robust thermal design resulting in their high reliability, CPI miniBUCs are ideal for maritime, satcom-on-the-move, and other harsh-climate applications," said Colin Eastment, vice president of business development for CPI's Satcom Division.
CPI is displaying a number of GaAs and GaN BUCs at the Satellite 2015 Conference & Exhibition. For more information on CPI's miniBUC products line, visit CPI at booth 3009.