Success at last after a few delays, and they threw in a handful of small sats to be released at today's launch as well.
Statement From United Launch Alliance
Vandenberg Air Force Base, Calif. (Nov. 11, 2016) – A United Launch Alliance (ULA) Atlas V rocket carrying the WorldView-4 satellite for DigitalGlobe lifted off from Space Launch Complex-3 Nov. 11 at 10:30 a.m. PST. Lockheed Martin Commercial Launch Services procured the Atlas V for this mission.
"Congratulations to the entire mission team. ULA is honored to celebrate the successful launch of the WorldView-4 satellite for DigitalGlobe and Lockheed Martin," said Gary Wentz, ULA vice president of Human and Commercial Services. "This morning's Atlas V launch delivered the WorldView-4 satellite into near sun-synchronous orbit during a flawless flight. ULA is proud to have launched the entire constellation of DigitalGobe's satellites and served in an essential role to get this revolutionary capability to orbit."
This mission was launched aboard an Atlas V 401 configuration vehicle, which includes a 4-meter-diameter large payload fairing. The Atlas booster for this mission was powered by the RD AMROSS RD-180 engine and the Centaur upper stage was powered by the Aerojet Rocketdyne RL10C engine.
"Today's launch marks ULA's ninth launch in 2016 and the 112th successful launch since the company was formed in December 2006," said Wentz. "Thank you to the men and women at the 30th Space Wing who worked tirelessly to combat and contain the fires that delayed a launch attempt in mid-September."
On September 15, wildfires spread through Vandenberg Air Force Base's South Base. The wildfires delayed the September 16 launch attempt. ULA, the Western Range and DigitialGlobe worked together to achieve today's launch success.
Including today's seven successful CubeSat deployments, ULA has launched 62 CubeSats. Sponsored by the NRO, today's CubeSat payloads are unclassified technology demonstrations known collectively as Enterprise. The CubeSats rode in the Aft Bulkhead Carrier, developed by the NRO and ULA, on the Centaur upper stage.
ULA has established a very low-cost approach to both design and launch of CubeSats to enable the ability to accommodate our commitment to education and innovation. This fall ULA announced the winner of its first-ever CubeSat competition this fall. Dubbed CubeCorps, the program encourages hands-on science, technology, engineering and math (STEM) experience to motivate, educate and develop the next generation of rocket scientists and space entrepreneurs.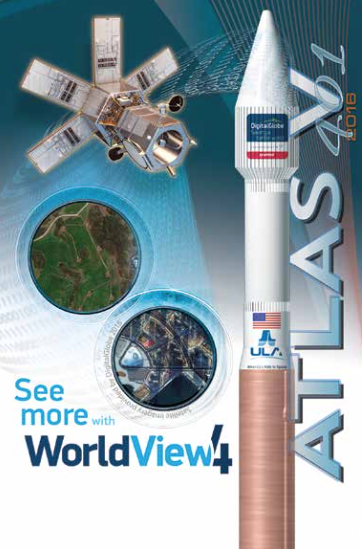 ULA's next launch is the GOES-R satellite for NASA. The launch is scheduled for Nov. 19 from Space Launch Complex-41 at Cape Canaveral Air Force Station, Florida.
With more than a century of combined heritage, United Launch Alliance is the nation's most experienced and reliable launch service provider. ULA has successfully delivered more than 100 satellites to orbit that provide critical capabilities for troops in the field, aid meteorologists in tracking severe weather, enable personal device-based GPS navigation and unlock the mysteries of our solar system.
End ULA Statement
WorldView-4, a multispectral, high-resolution commercial imaging satellite owned and operated by DigitalGlobe, will help customers around the world see more of our changing planet. The satellite was built by Lockheed Martin Space Systems Company and will provide 31-centimeter panchromatic resolution and 1.24-meter multispectral resolution—the same resolution offered by the WorldView-3 satellite, which launched on an Atlas V rocket in 2014. This industry-leading resolution provides the sharpest view of vital details on the ground, to give customers confidence when making critical decisions.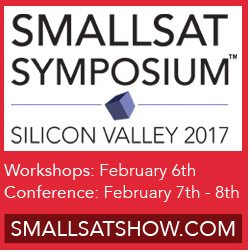 As the fifth satellite in the DigitalGlobe constellation, WorldView-4 joins WorldView-1, -2, -3, and GeoEye-1. The addition of WorldView-4 means the constellation can image a location on average of 4.5 times per day at 1-meter ground sample distance or less. WorldView-4 has a global capacity to image 680,000 square kilometers per day and will add to the DigitalGlobe image library, which spans 16 years and grows every day.
WorldView-4 also includes industry-leading geolocation accuracy, bi-directional scanning, rapid retargeting, daily revisits and simultaneous capture of high-resolution and multispectral imagery.