India's ambitious second lunar mission, Chandrayaan 2, suffered a temporary setback in the early hours of Monday, with the launch of the rocket being aborted 56 minutes before the scheduled lift-off.
The mission was aimed at putting a rover on the moon's South Pole, where no country has gone before.
"The launch is called off due to a snag. It is not possible to make the launch within the window. The launch schedule will be announced later," a mission control official said on the public address system at the Satish Dhawan Space Centre.
Kovind flies in
President Ram Nath Kovind had flown in by helicopter to witness the launch, after visiting Tirupati. Confusion prevailed in the media centre, as the announcement over the PA system was not heard indoors. With the clock stuck, ISRO officials at the auditorium scrambled to find out if the launch had been cancelled.
An official announcement came at 2.40 a.m., when ISRO's PRO read out a short statement on the launch being called off.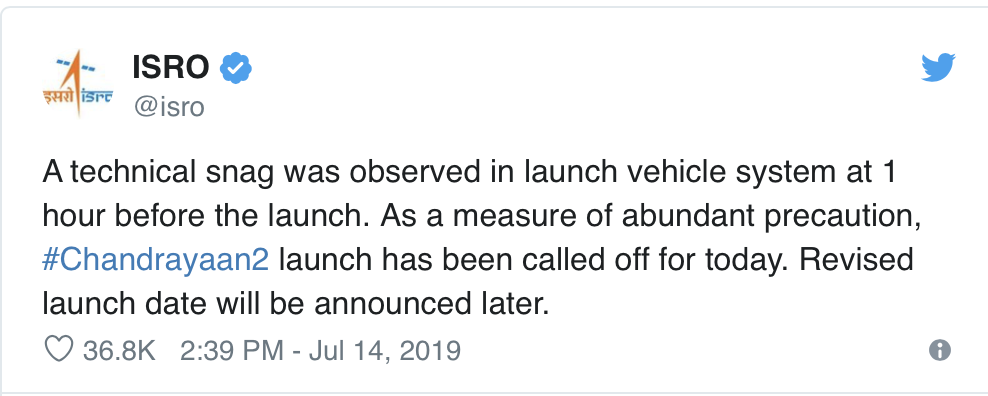 "A technical snag was observed in the launch vehicle system at 1 hour before the launch. As a measure of abundant precaution, Chandrayaan-2 launch has been called off for today. Revised launch schedule will be announced later," ISRO said in a tweet at 3.09 a.m.
ISRO had a launch window between July 9 and 16. Officials are tight-lipped about the aborted mission. Postponing the launch would help ISRO identify and address the snag.
The mission is set to be a test bed for technologies required for deep-space ventures. The Chandrayaan-2 module, carrying indigenous rover 'Pragyaan' and lander 'Vikram', was set to have separated 16 minutes after take-off, and touch down on the moon 54 days after lift-off.
The launch of Chandrayaan-2 has had several setbacks with ISRO missing multiple deadlines since 2018. It was again planned to be launched in a window between January and mid-February last, but was put off yet again. When the launch window in July was fixed, ISRO Chairman K. Sivan had told The Hinduthat it was final and would be met. But that fell apart as well in the early hours of Monday.
As ISRO scientists went into a huddle following the call-off, everyone gathered at the space centre started leaving.
By T.K. Rohit, The Hindu