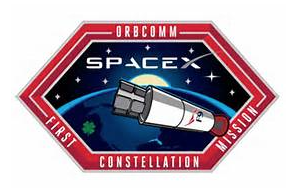 [SatNews] ...
UPDATE
According to the ORBCOMM infosite, the launch date for the OG2 Mission 1 launch is July 14th, with a backup date of July 15th should anything untoward occur on the original date. According to ORBCOMM, "
The OG2 payload and Falcon 9 launch vehicle are in good condition, and engineering teams are moving forward with the necessary steps to prepare for launch."
Original news item:
Tuesday the 24th is a stand down after checking preflight checkouts...
OG2 Mission 1 Update: June 23, 2014
SpaceX is taking a closer look at a potential issue identified while conducting pre-flight checkouts during yesterday's countdown. SpaceX will stand down Tuesday, June 24 while our engineering teams evaluate further, which will also allow the Range to move forward with previously scheduled maintenance. We are currently targeting the first week of July and will work with the Range to confirm the next available launch opportunities.
This launch was supposed to deliver the first set of a series of 17 satellites that will replace the first-generation of Orbcomm's constellation of communications satellites. Built by the Sierra Nevada Corporation and weighing about 170 kg (375 lb), the satellites are larger and more efficient than previous Orbcomm craft, and are capable of faster data feeds and can cover higher latitudes on the Earth's surface. In addition, they can be used for tracking Automatic Identification System (AIS)-equipped ships, allowing their owners and emergency services to keep tabs on them.
The mission, from Florida's Cape Canaveral Air Force Station, will deliver six spacecraft to low-Earth orbit for the satellite-communications provider ORBCOMM. ORBCOMM is paying SpaceX $42.6 million for the two launches.
ORBCOMM officials say the company's investment in the second-generation satellite fleet, which replaces the company's aging spacecraft already in orbit, is worth approximately $230 million.
About $70 million in assets are aboard today's launch, according to Robert Constantini, ORBCOMM's chief financial officer. Marc Eisenburg, CEO of ORBCOMM, said being so close to launch is a "pretty amazing feeling, considering we started financing the constellation in 2005."
The OG2 satellites (whose name is short for "ORBCOMM Generation 2") will provide an upgrade over ORBCOMM's current OG1 constellation, company representatives said. SpaceX will launch a total of 17 OG2 craft using the Falcon 9, with Mission 1 lofting the first six in the new constellation.
The last Falcon 9 liftoff, which took place in April, sent SpaceX's unmanned Dragon capsule tearing towards the International Space Station on a cargo mission for NASA. That launch also featured a successfulrocket-reusability test, with SpaceX managing to bring the Falcon 9's first stage back to Earth in a soft ocean splashdown. SpaceX representatives have said they will attempt another first-stage recovery during the OG2 launch.
Most of ORBCOMM's existing first-generation, or OG1, satellites were launched more than 15 years ago. They have operated years longer than designed, officials said.
The satellites offer two-way data links to help customers remotely track, monitor and control transportation and logistics assets, heavy equipment, oil and gas infrastructure, ships and buoys, and government-owned equipment, according to ORBCOMM's website.
Founded by Orbital Sciences Corp. in 1993, ORBCOMM Inc. was spun off as an independent company in 2001.
The launch will be broadcast here.