The Japan Aerospace Exploration Agency (JAXA) is postponing their launch of the third Epsilon Launch Vehicle (Epsilon-3) with the Advanced Small-size Radar Satellite (ASNARO-2) on board to November 12, 2017 — the launch is scheduled to take place from the Uchinoura Space Center.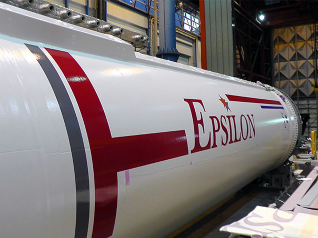 JAXA is taking this extra time to rectify an incompatibility that was found in the electrical system of the Epsilon-3 during the course of the launch preparations at the launch site. The new launch date will be announced as soon as it is determined.
According to JAXA, for this next-generation solid fuel rocket, the company plans to reform the launch system and improve the operation performance to the highest global standard by using innovative ideas far beyond a simple combination of existing technologies. One goal is to reduce the time required for the operation of ground facilities and launches to about one fourth of the time required for the M-V Launch Vehicle.
To accomplish this, JAXA will make the vehicle perform checks onboard and autonomously and reduce the time required for operations on the ground. Ultimately, through the internet, the agency will be able to check and control rockets anywhere in the world simply by using a laptop computer — the launch control system need not necessarily be located at the launch site. JAXA believes that such an innovative concept for a new solid propellant rocket will become model for future launch systems involving liquid fuel rockets.