The plan by the UAE Space Agency and Mohammad Bin Rashid Space Center (MBRSC) is to launch their Emirates Mars Mission known as Hope next summer via a Japanese H-2A rocket, with a Mars orbit being reached by December of 2021.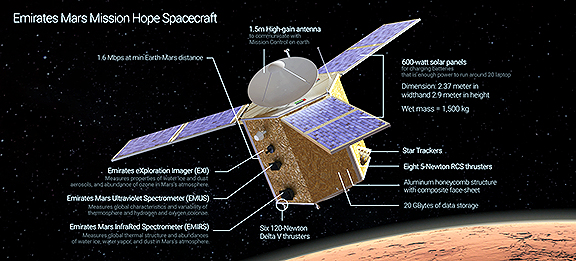 The 1.5 ton Hope Probe build is now 85 percent complete, according to the organizations, with the majority of the parts in place with the unit going through the testing process.
Major milestones that have been met during this process include the ability of the probe's to communicate with ground stations. Next up are the environmental tests, which are hoped to be concluded by December of this year.
Aboard the Hope will be the fully completed...
Emirates eXploration Imager (EXI): capture and delivery of high-resolution color images
Emirates Mars Ultraviolet Spectrometer (EMUS): examination of temperature patterns, ice
water vapor and dust in the atmosphere of Mars
Emirates Mars Infrared Spectrometer (EMIRS): upper atmosphere analysis
According to Dr. Ahmad Bel Houl Al Falasi, the Minister of State for Higher Education and Advanced Skills as well as the Chairman of the UAE Space Agency, the UAE is on the verge of making history, after turning the nation's dream of becoming the first Arabic and Islamic country to send a spacecraft to Mars into reality. This monumental endeavor is the culmination of the efforts of a skilled and experienced team of young Emiratis, who with the support of the nation and visionary leadership, will secure the UAE's position at the forefront of space exploration and the international space sector.