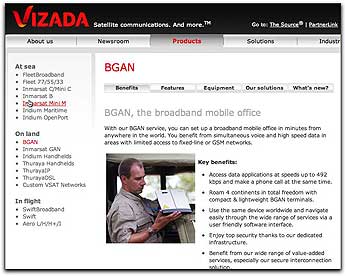 They don't just talk the talk, they walk the walk — tis the season, and Vizada announced that it has donated BGAN terminals to HumaniNet, a non-profit organization dedicated to educating humanitarian organizations about the tremendous benefits of using satellite communications to support relief and development efforts.
HumaniNet, in turn, has
given or loaned the terminals to its network of organizations helping people in need around the world.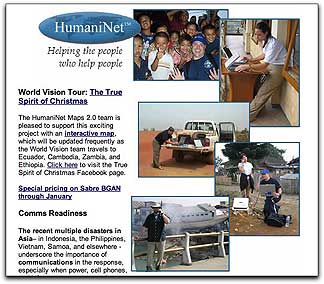 "
HumaniNet has a very unique and important mission to help humanitarian groups understand the tremendous value satellite communications can bring to their efforts in key hot spots and remote locations around the globe
," said
Bob Baker
,
president and COO, Vizada Americas.
"Vizada has been a long-time supporter of HumaniNet, and we know these BGAN terminals will be put to important use for many years."
HumaniNet provided the BGAN terminals to groups conducting a variety of efforts in some of the world's most remote regions. The Adventist Development Relief Agency (www.adra.org) is using its BGAN terminal in Samoa to aid in tsunami relief efforts.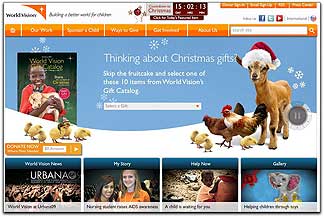 WorldVision (www.worldvision.org) works to combat poverty among children and families in places like Ecuador, Mali and Ethiopia.
Their new BGAN terminals are being used initially by a video production crew filming the people and communities of Cambodia and other countries to publicize World Vision's True Spirit of Christmas tour and gift catalog that allows people to donate money for cows, education and hope.
Brad, Kris, and Jeff Howe
, three brothers from the New Tribes Mission, (www.ntm.org) are developing written languages for indigenous people groups in different locations of the Amazon region of Western Brazil, one of the most remote and inhospitable areas touched by the HumaniNet network.
The brothers and their families will use BGAN as their sole communications with the outside world and with each other, as do dozens of New Tribes missionaries worldwide.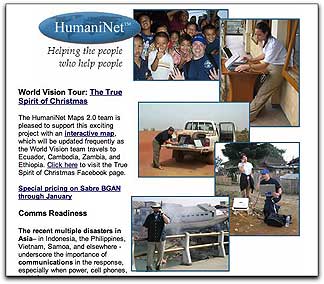 HumaniNet (www.humaninet.org) will loan two of the BGAN terminals for short term use by the more than 400 organizations and teams it supports. One of the units has already been allocated to That They May Know (www.thattheymayknow.com), missionaries who manage a small hospital in the remote Gulf Province of Papua New Guinea.
They are using the BGAN terminal to replace an older technology whose service had declined greatly over the last several years.
"These BGAN terminals from Vizada will provide a critical lifeline for the groups I work with, which are operating in some of the world's most remote and dangerous regions,"
said
Gregg Swanson
,
executive director of HumaniNet
. "
Satellite communications provides not just voice communications, but broadband access for reporting scientific data and status updates in real-time along with providing a measure of security in volatile areas. Many of the groups I work with do not realize just how capable and reliable mobile satellite communications has become, nor do they realize how easy and affordable it is to use and maintain even in their unique situations.
" With BGAN service, these groups will be able to set up a broadband mobile office in minutes from anywhere in the world. They will have simultaneous voice and high speed data in areas with limited access to fixed-line or GSM networks.