[SatNews] is designed to deliver the most efficient networking and trunking solution over the highest throughput satellites in the world...
Offering a true fiber alternative, O3b Networks unveiled O3bTrunk+, a next generation IP trunking solution that boosts existing link capacities that is comparable in the affordability and latency of fiber.
Powered by Comtech EF Data's patented and award-winning technologies, O3bTrunk+ is designed to deliver the most efficient networking and trunking solution over the highest throughput satellites in the world. O3bTrunk+ significantly boosts link capacity, opening up competitive choices in many regions of the world, where, until now, satellite service offerings have lagged far behind surging connectivity demand for broadband, voice and enterprise services.
The O3bTrunk product line delivers lower latencies than long haul fiber, with round-trip latency of less than 150 milliseconds. The result is the highest quality voice and video in the satellite industry.
"O3b Networks has taken its revolutionary trunking solution and enhanced it to meet both the technical and economic requirements in some of the most challenging and underserved locations on earth," explained Bob Hansen, Senior Vice President and Chief Commercial Officer for Comtech EF Data. "Comtech is honored to partner with O3b, to create a service proposition that, for the first time, puts terrestrial infrastructure on the heels of satellite. Considering price, overall performance, the ability to redeploy from one location to another and the end to end reliability, O3bTrunk+ is a better solution than fiber for many remote areas."
"Developing or emerging markets are highly demand elastic with the right combination of price and network performance. O3b has continued to innovate and invest in our ground infrastructure to ensure that beyond the reach of fiber, O3b can offer comparable price and performance certain that this will significantly increase subscriber revenues" said John Finney, O3b Networks Chief Commercial Officer.
O3b is enabling communications service providers to offer fiber-like capacity around the world. O3b's unique Medium Earth Orbit satellite fleet enables affordable, high-speed, low latency connectivity in places where traditional satellite and fiber offerings are unavailable or extremely costly.
O3b Networks Limited is a global satellite service provider building a next-generation satellite network for telecommunications operators, Internet service providers, enterprise and government customers in emerging markets.
O3b's Eighth Gateway In Pakistan
Under clear skies on the outskirts of Karachi, O3b's ground system team has completed the installation of its eighth Gateway and site acceptance testing has begun. The Pakistan Gateway joins O3b's other seven worldwide Gateways in providing customers with affordable, low latency, high bandwidth connectivity.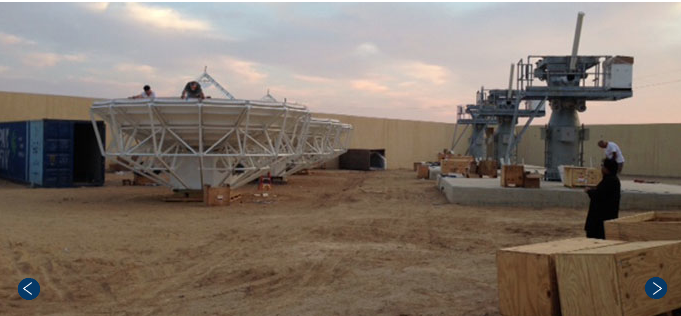 Installation of O3b's Pakistan Gateway in the beginning of 2014 is a great way to start the year. The Gateway equipment arrived at Port Qasim, Karachi on New Year's Day and installation was under way before the end of the month. Karachi is Pakistan's largest and most populous city of nearly 24 million people and getting around in the city is interesting to put it best. Like all previous Gateways, the Pakistan system consists of three Viasat 7.3 meter Ka-band MEO antennas, RF electronics, and high speed networking equipment. The install team has been hard at work unpacking, installing, and setting up the system and will be performing site acceptance and system checkout over the next few weeks. The O3b Network Operations Center (NOC) in Bristow, Virginia will then take over day-to-day operations of the Gateway in support of our customers. Next up for Ground Engineering is the Gateway scheduled for installation in Brazil in March 2014.