[Satnews] With huge capital expenses for High Throughput Satellite (HTS) infrastructure and services made by satellite operators, industry focus now shifts to maximizing the returns on these investments. As 24/7 connectivity becomes a necessity rather than a luxury, the need for lightweight, low-cost, and high performance satellite terminals has driven the evolution of ground segment equipment, for which
flat panel antennas (FPAs)
have emerged as the most popular innovation in recent years.
The limited speed and large size of mechanically-steered and the first generation of electronically-steered flat panel antennas drew many to wonder if the Holy Grail of the satellite world—a cost-competitive, electronically-steered flat panel antennas with an ultra-low profile- would ever be within reach. But the journey to this goal has been a long, difficult one because of the many desired features of such a product as depicted in the figure below.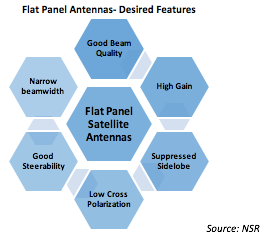 NSR has often noted the tremendous increase in satellite mobility bandwidth demand has driven many operators to add new HTS systems and constellations to meet this demand. But at the same time, theindustry metric has put more emphasis on cost-efficiencies, which is where NSR expects flat panel antennas (FPAs) to play a key role in this transformation. As service providers look to provide more bandwidth at lower cost to end-users, falling capacity prices, next generation modems with beam switching capabilities, and better software are icing on the cake of the HTS capacity onslaught, in which FPAs are a perfect fit.
In NSR's recently released Flat Panel Satellite Analysis report, both the mobility and fixed satellite side of the business were analyzed, and commercial aeronautical connectivity was observed on top as the biggest driver and revenue generator for FPAs. Indeed, a low-profile antenna is a necessity for lower drag and higher fuel efficiency in this market. Despite lower volumes overall in mobility markets, these FPAs with their higher complexities and more stringent requirement have higher per unit costs and drive the market. Revenues generated by equipment manufacturers in this vertical are expected to reach close to $400 million by 2025, at a staggering 32% CAGR .
But what is more telling is that over half of revenues will be generated by FPAs operating in Ku-band as aircraft flying on these systems already have a leg up on other frequency bands. Still, Ka-band FPAs are also expected to grow strongly due to operators such as ViaSat and Inmarsat expanding their services aggressively during the forecast period, and the diverse airframe types (and routes) in the addressable market.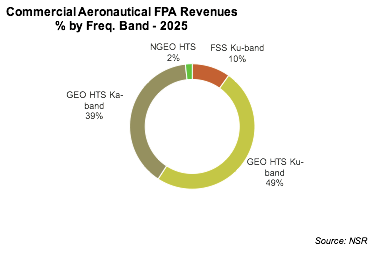 Bottom Line
The next generation of steerable and bandwidth efficient FPAs will be key for extracting the maximum value proposition out of HTS services, with aeronautical connectivity being the biggest marketfor equipment manufacturers. Despite many obstacles associated with low-elevation look angles, adjacent satellite interference, and skewing issues, NSR expects these FPAs to find a match on many airframe markets.