[SatNews] A launch representing France, Chile and Russia has been successful, so far...
Arianespace Flights VS02, ST24, VA205 and VV01 are seen as Soyuz performs its second liftoff from the new French Guiana launch facility created for this medium-lift vehicle's operations in service with Arianespace.
Arianespace confirmed Soyuz' mission flexibility in operations from the Spaceport
with tonight's successful launch that placed six satellite passengers into Sun-synchronous orbit.
Departing precisely at the planned liftoff time of 11:03:08 p.m. in French Guiana, the
Soyuz performed a 3-hour, 26-minute flight to deploy its payload of the French Pléiades 1 and Chilean SSOT satellites for civilian and defense image gathering, along with four French ELISA micro-satellite demonstrators for defense-related electronic intelligence gathering (ELINT).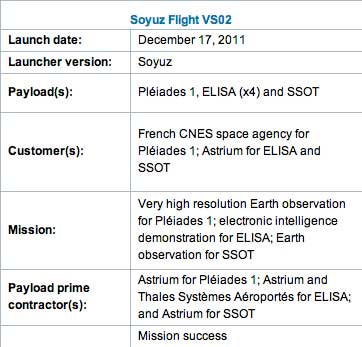 This was Arianespace's second mission with the Russian-built
medium-lift workhorse launcher performed at the Spaceport, and it occurred less than two months after Soyuz' historic maiden flight from French Guiana on October 21.
Designated Flight VS02 in Arianespace launcher family numbering system, tonight's mission involved four burns of Soyuz' Fregat upper stage, which enabled the six satellites to be released for operations at altitudes ranging from 610 km. to 700 km. 
  Using a new purpose-built payload dispenser developed for Arianespace's Soyuz missions, the deployment sequence began with the release of Pléiades 1.  It was followed by the simultaneous separation of all four ELISA satellites, and the mission was completed with the deployment of SSOT, which occurred 3 hours, 26 minutes after liftoff.
The Soyuz lift performance was an estimated 2,190 kg., which includes approximately 1,400 kg. for the Pléiades 1, ELISA and SSOT satellites, along with the weight of its payload dispenser and integration hardware.
  This was the 1,781st  flight of the Soyuz launcher family, which ushered in the space age and continues to demonstrate its reliability and robustness in both unmanned and manned missions.
Pléiades 1 weighed 970 kg. at launch and will provide military and civilian users with very high resolution optical satellite imagery from a 700-km. orbit, offering 50-cm. resolution imaging products at a coverage swath width of 20 km.
 Built by prime contractor Astrium for the French CNES space agency, Pléiades 1 is a compact, hexagonal-shaped spacecraft optimized for operational agility and image location accuracy.
The Pleiades satellites offer a significant improvement in technology over previous generation satellites, based on their size, resolution, high degree of agility in orbit, and ground transmission capacity.
The four ELISA (Electronic Intelligence by Satellite) demonstrator satellites will enable French defense procurement agency DGA (Direction Générale de l'Armement) to test the space-based mapping of radar transmitters across the planet, while also determining the characteristics of these transmitters. The DGA and CNES are co-project authorities, and chose Astrium, with Thales Airborne Systems, to build the four satellites, each weighing about 120 kg, along with the user ground segment.
The Soyuz mission's
four ELISA micro-satellites are part of a joint demonstrator program involving the French DGA defense procurement organization and the country's CNES space agency, with these spacecraft developed in a partnership of Astrium and Thales Airborne Systems. 
Weighing 120 kg. each, they have an operational design life of more than three years.
Chile's SSOT (Sistema satelital de Observación de la Tierra) is a dual-role military/civilian optical satellite that weighed 117 kg. at launch, and is designed for such missions as mapping, agricultural monitoring, and the management of natural resources, disasters and risks.
  Built by Astrium for the Chilean armed forces, SSOT is based on the same CNES-conceived spacecraft platform as the ELISA satellites.
Following tonight's success, Arianespace will continue its sustained launch cadence as another Soyuz mission is set for December 28 from Baikonur Cosmodrome in Kazakhstan, while preparations continue at the Spaceport in French Guiana for the new lightweight Vega's inaugural liftoff, as well as for the next heavy-lift Ariane 5 flight.
The upcoming Baikonur Cosmodrome launch, referred to as Flight ST24, will be performed on Arianespace's behalf by its Starsem affiliate, and marks the third such Soyuz mission to carry a cluster of six Globalstar second-generation satellites.
Looking ahead to Arianespace's 2012 mission activity...
Operationally, Ariane 5 lofted eight large geostationary telecommunications satellites from French Guiana during the year — representing one-half of all such payloads orbited worldwide in 2011 — along with the no. 2 Automated Transfer Vehicle.
The initial Vega to be launched from French Guiana is taking shape at the Spaceport, with its solid propellant first, second and third stages now stacked on the launch pad. 
In the next several days, Vega's AVUM liquid-propellant upper stage will be moved to the pad and installed atop the launcher.  Integration of the "upper composite," consisting of the launcher's payload and protective fairing, is planned for January, followed by final verifications of the fully integrated launcher and the countdown rehearsal.
This introductory Vega mission — designated VV01 — is anticipated in the January-February timeframe, and will carry Italy's LARES laser relativity satellite, along with the ALMASat-1 spacecraft from European universities and several small cubesat platforms.
Separately, the no. 3 Automated Transfer Vehicle (ATV) for servicing of the International Space Station is scheduled for a March 9 liftoff from French Guiana on an Ariane 5.  
This flight's launcher has now been declared ready for the Spaceport handover to Arianespace by industrial prime contractor Astrium.  It will be the 205th mission with an Ariane family vehicle, and is designated VA205 in Arianespace's numbering sequence.
The ATV's two major components — its Integrated Cargo Carrier and the Service Module — were mated this week in the S5 payload preparation building at the Spaceport, marking a major milestone in preparations for the resupply spacecraft's liftoff.
With Ariane 5, Soyuz and Vega operating side-by-side from the Spaceport, Arianespace will have a complete launcher family that supports the company's goal of being able to launch "any payload, to any orbit…anytime."
Arianespace Chairman & CEO
Jean-Yves Le Gall
said the company's performance in 2011 once again validated its market leadership, with the
"numbers speaking for themselves."