[SatNews] Some programs include; space physical sciences; space engineering; space policy, economics and law; space management and business; human performance in space...
The International Space University (ISU) announces the 28th annual Space Studies Program (SSP) session that will convene at the Ohio University (OHIO) in Athens, Ohio in the United States from June 15 to August 14, 2015.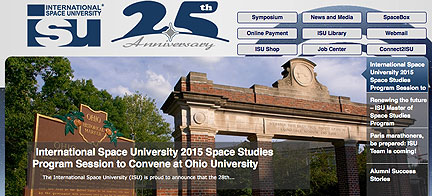 "This session is the culmination of a growing relationship between Ohio University and ISU. Professor Bukley, the present ISU Dean, was previously linked to OHIO and Professor Irwin is an ISU faculty member who has twice chaired the space systems engineering department and regularly served as a lecturer or workshop leader. As such there was no surprise to receive a well-thought and excellent SSP proposal from them, which was approved enthusiastically by ISU's Board of Trustees" declared ISU President Walter Peeters.
"Ohio University's quest to be the nation's best transformative learning community relies upon a vibrant campus culture and thought-provoking academic encounters. Bringing future leaders of the global space community to Athens will provide unique opportunities for our students and the surrounding community, moving us closer to our vision." added Ohio University President Roderick McDavis.
Gary Martin, SSP Director pointed out that "Ohio University is an excellent location for SSP15, with its cutting-edge academic facilities, and modern accommodations all situated in the rolling hills and forest of southern Ohio—making it one of the nicest spots in America."
The SSP is an intense nine-week program that offers the participants a unique and comprehensive professional development experience covering all aspects of space programs and enterprises. Disciplines highlighted include space physical sciences; space engineering; space policy, economics and law; space management and business; space and the humanities; space applications; and human performance in space.
This program targets young and seasoned professionals from all disciplines as well as post-graduate university students. The team projects allow participants to refine the topic as a team, and also produce professional quality reports and final presentations, all in the span of a few weeks. Every summer, the SSP takes place in a different location around the world. Recent sessions have convened in Barcelona, Vancouver, the NASA Ames Research Center, Beijing and Melbourne (Florida).
"My participation in the ISU SSP since 1998 makes me confident that the presence of these very committed and accomplished professionals will greatly enhance and invigorate the intellectual environment of the Russ College during their stay in our facilities. The chance for faculty to interact with the participants will certainly lead to new ideas and approaches, and that interaction is exactly what the Russ College is known for," said Dean of the Russ College of Engineering and Technology Dennis Irwin.