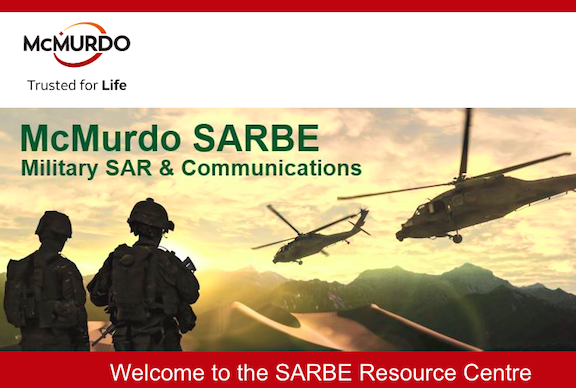 [Satnews] McMurdo is extending its world leading Search and Rescue Ecosystem with the launch of the SARBE CommLink at the Dubai Airshow. SARBE CommLink is a next-generation digital wireless intercom system that helps emergency response/rescue teams accelerate time-to-rescue with superior audio quality, long-distance communications range and unique programming capability.
With SARBE CommLink, the McMurdo SAR ecosystem, which has traditionally included distress beacons, satellite connectivity and mission control and rescue coordination systems, is now extended to include a military-grade communications solution as part of rescue operations. Rescue helicopters/aircraft, their crew and support teams can now use the next generation McMurdo communications tool in mission-critical applications across the globe including medevac, offshore transit, disaster recovery and SAR.
SARBE CommLink has been specifically designed for use in hazardous missions and environments. Rescue team members can maintain direct contact with remote support personnel, including hospital, law enforcement and other emergency staff, via SARBE CommLink's long-range communications, multi-group functionality and helmet-based design. This helps to streamline the entire rescue process, resulting in faster casualty analysis, expedited medical response and more lives saved.
CommLink features
SARBE CommLink adds mission aircraft solutions to McMurdo's unique ecosystem that encompasses distress beacons, satellite connectivity infrastructure, monitoring/positioning software and emergency response management solutions.
Secure digital communications with clear audio quality, no loss VOX and Dual Band – VHF/UHF with option for direct communication via maritime VHF
Multiple pre-programmed groups allows rapid simultaneous communication within operational teams
Self-adapting, integrated, noise cancellation microphone improves audio clarity in the most challenging aircraft or operational environments, increasing efficiency of communication and the safety of response teams
Built-in microphone allows SAR teams to communicate with on-scene personnel without having to remove helmets
Fully ruggedized and certified submersible to IP68
Integrated global positioning system and automatic identification system within the handset allows ground asset tracking
Multiple operational modes – headset, walkie talkie, P2P
Robust 10KM intercom range and long battery life, with automatic power adaption
Remote keying of aircraft communications, aircraft VHF access extends speed and flexibility of operational communication
Base station night vision goggles limit light impact where night vision technology is deployed
Built-in AIS SART
"The launch of SARBE CommLink is a major milestone towards realizing McMurdo's journey to become the global leader in emergency readiness and response systems that prevent emergencies, protect assets and save lives," said Remi Julien, McMurdo President.
"Throughout our history we have provided search and rescue agencies worldwide with the products and systems to identify, locate and monitor emergency situations. Now, we can provide rescue operators—whether in the military or other government agencies—with an innovative communications tool that saves precious time and will be a core element of the actual rescue, one that is backed by over 70 years of SABRE brand military industry excellence," Julien added.
McMurdo was recently selected to lead development of next generation search and rescue beacons by the European Commission.
McMurdo SARBE CommLink Applications
Search and Rescue (SAR) Helicopter:
CommLink's pre-programmed groups, with a choice of operational modes and remote keying to leverage aircraft communication, ensures operational teams can have unparalleled flexibility and confidence in their communication options. The digital handset's range of up to 10km, with superior audio quality via the built in microphone, no loss VOX, Press To Talk (PTT) and noise cancellation features, ensures optimal communication for teams on hazardous air missions.
Fire-fighting / Mountain Helicopter
For wild fire ground teams, mountain rescue or medevac crews separated from their aircraft, CommLink maintains contact with support teams through a robust range, dual band, long battery life with automatic power adaption and fully submersible rugged construction. The integral personalised Automatic Identification System and Global Positioning System of the CommLink handset also ensures both individual location clarity and crew tracking in the most demanding environments.
Military teams
For helicopter deployed military teams the CommLink's four, pre- programmed groups allows rapid simultaneous or selective communication. The remote radio keying feature allows access to the aircraft's VHF radio, greatly extending the speed and flexibility of operational communications. The secure digital wireless intercom's superior audio, flexibility and ease of use continues SARBE's reputation for highly robust solutions designed to support tri-force operations.
Airport Logistics
The CommLink wireless intercom offers greater audio quality and versatile connectivity via the full duplex and dual band features, including self-adapting noise cancelation and microphone that allows advanced situational awareness in high noise environments or pressurised logistical operations. These are the scenarios where clarity between load masters, pilot, ground teams and control tower can save time and, potentially, lives.